Setting up an author site is a given for all self-publishers. Since blogging is also an important aspect of author promotion, it can be easier to use a blogging platform like WordPress for the overall website. WordPress themes are diversely designed and fabricated so that they can be used for various types of websites in specific. WordPress themes are focused on primary aspects of a site in which it is to be used.
There are some excellent premium themes available for WordPress, designed with writers and authors in mind. In this post I have collected some of the amazing wordpress writers premium themes that are useful for authors, writers and publishers. These high-quality themes will greatly emphasize on your site's content. So if you're a blogger, writer, publisher or journalist, these beautiful WordPress themes will surely accommodate your site.
Maybe you're interested to take a look at the following articles:
1. Seven – Stylish WordPress Theme
This WordPress Theme is great for blogs and portfolios. It comes with tons of useful options to ease and speed up the content creating. One-click install demo content. After activating the theme you can generate the preview pages structure with a single click (different images will be used). The theme will generate pages, posts, slides, portfolio items and testimonials accordingly.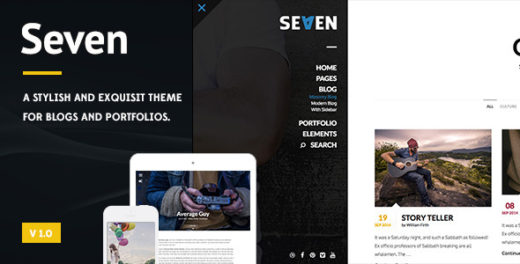 2. Gridstone: Elegantly Built for Blogger Theme
Gridstone, a content-focused blogging theme with easy vertical design and great typography that allows your visitor to enjoy the flow of reading across articles. The design is created to immediately create a sense of confidence to your visitor. Not too crowded with content, but just enough.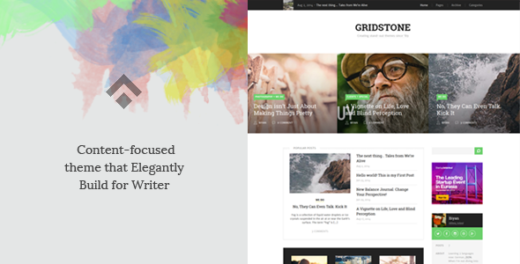 3. Minimy – Responsive Clean Personal & Fashion Blog Theme
Minimy is one of the most clean blog themes that ideal for Personal blog, also creative person that love and enjoy writing. this themes focus on readibility of your content, and reduce distraction from any unusable element. To keep anyting simple, we trim away any clutered functionality and leaving only important feature that useful for your daily writing.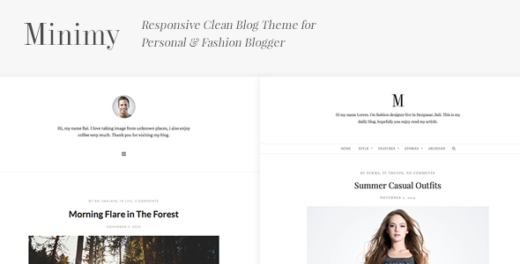 4. Crissy – Responsive WordPress Theme
Crissy is a stylish, carefully handcrafted and fully responsive WordPress blog and shop theme. Ideal for writers, story tellers or just casual bloggers, though it can serve just as well as an image portfolio. Beautiful, large typography, with more than 600 Google fonts to choose from. Archive template for displaying: latest posts, monthly archive, categories, tags, authors, and post formats.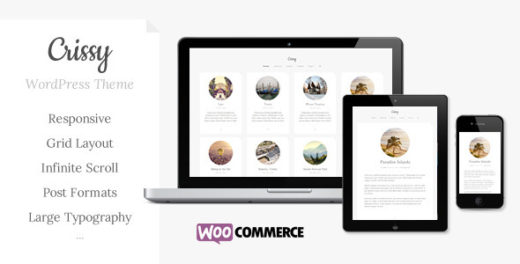 5. Journal – Elegant Responsive WordPress Blog Theme
Journal is an awesome WordPress theme which brings elegant & unique design. It's ideal for blogging. It's very flexible, fully customizable and powered with Redux Framework. Journal also provides you a pure reading experience with a feature called Reader Mode.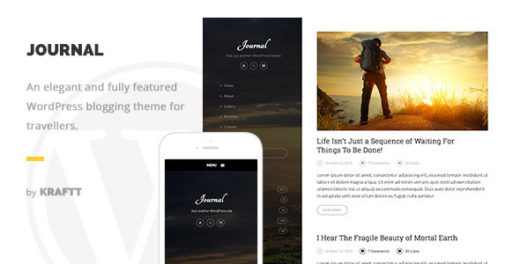 6. Blogify – Flat Responsive WordPress Blog Theme
Blogify is an awesome WordPress theme which brings clean & flat design. It's ideal for personal blogging . It's very flexible and powered with Bootstrap framework. Blogify has advanced theme options to make your site very flexible and fully customizable.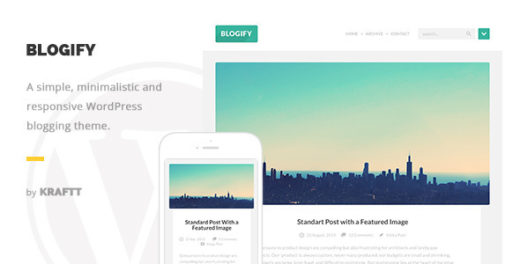 7. iWrite – Minimal Responsive Blogging Theme
iWrite is the perfect minimal theme for blogging in style. Packed with essential features such as different post formats, useful shortcodes, widgets and a great design, this theme is for those who just want to write. It's responsive & retina ready, meaning that your site and images will look sharp on any device!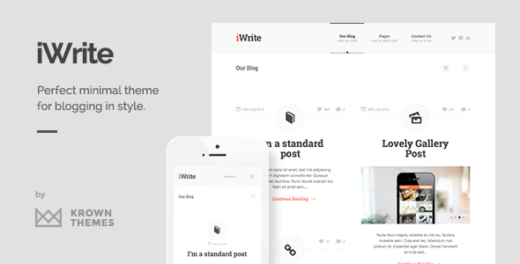 8. Personal – WordPress Blogging Theme
The Personal WordPress blog theme gives bloggers, writers, journalists and video bloggers an opportunity to showcase their skills with text and multimedia content. Instead of relying solely on writing, Personal makes it easy to showcase high quality video and photo content, beginning with its large video 940px view port width.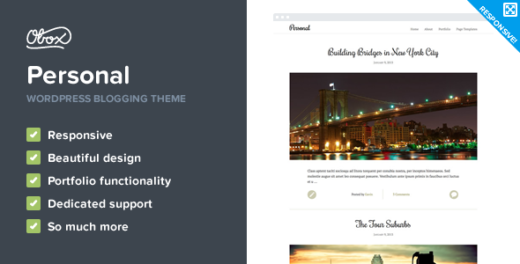 9. The Novelist: Responsive WP Theme for Writers
If you're looking for a basic blog, you've come to the wrong place. This theme is built for the serious writers looking to showcase their talents. The Novelist is a premier responsive portfolio theme for authors and/or copy writers.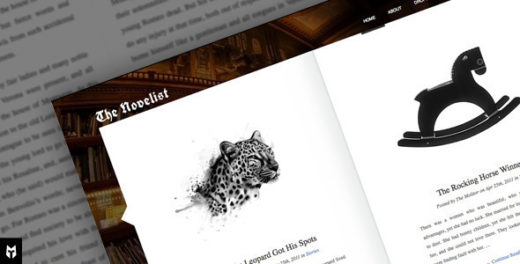 10. The Writer – Premium WordPress Blogging Theme
The Writer has been designed as a 'mobile-first' theme with careful attention paid to the readability of long-form posts on small screens. Articles are designed to make reading long-form posts a pleasure on the eye. All unnecessary noise has been removed or hidden. Clean code and years of experience in the industry have built a solid, search engine friendly foundation for our multi-purpose themes.