Landing pages has the ability to convert visitors into customers. WordPress one of the popular CMS on the internet has many resources to make eye catching and convertible landing pages in a matter of clicks. A landing page is essentially a page that you direct people coming from a campaign to. It is what your entire campaign's success depends upon.
Here's in this article I have compiled a list of the best free landing page plugins for WordPress. Many of these plugins allow you to work on your site while providing a Coming Soon page to your visitors. Hope you will like these resources and use them in your next project. Please if you have any specific plugin for landing pages in your mind share with us i will include it in the next update.
You might also want to take a look at our previous selections:
1. Coming Soon
Coming soon plugin is awesome tool to show your users that you are working on your website to make it better. Ability to set full browser background image for you Coming Soon page. Works perfectly with all versions of WordPress. Ability to use WordPress post toolbar for Coming soon page Content.

2. wBounce
wBounce is the free exit popup software for WordPress, evolved by digital marketer Kevin Weber. This plugin bases on Ouibounce by Carl Sednaoui. Exit popups are not only in vogue, they are provably increasing conversions and therefore boost marketing, signups and sales.

3. Instapage WordPress Plugin
WordPress is the giant in the CMS world; the same is true for Instapage in the landing page domain- now imagine the power you'll unleash when you combine both these platforms together.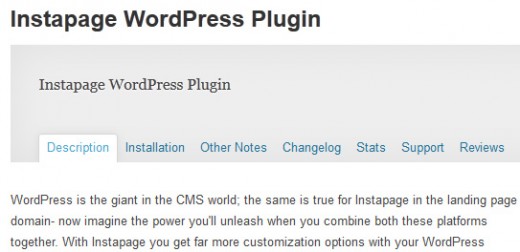 4. Ultimate Landing Page
Ultimate Landing page plugin is complete plugin ready to work out of the box with just one click Install you will be creating landing pages without writing a single line of code or technical assistance.

5. Subscribe Forms
From now you don't need to create boring white subscribe forms that does not convert. Use Subscribe forms and create, Using Premium form templates which are designed to not just increase your subscribers but maximize them.

6. Landing Pages Builder
Create Landing Pages on WordPress, run A/B tests and more. Get new leads, improve conversion rates, and manage all your landing pages in one place. Run self-optimizing ads to generate new leads. Run marketing campaigns to nurture your leads.

7. Conversion Optimization by 40Nuggets
Overlay popups are a powerful way to turn more of your traffic into leads. However, most of the popover tools on WordPress are largely one-size fits all, meaning that your popover is only appropriate for a small percentage of your traffic.

8. WordPress Landing Pages
The landing page plugin was specifically designed with inbound marketing best practices in mind and will help you drive & convert more leads on your site. Landing pages are an ideal way to convert more of your passive website visitors into active leads or email list subscribers.

9. WordPress Calls to Action
This plugin creates calls to action for your WordPress site. It gives site owners the ability to monitor and track conversion rates, run a/b or multivariate split tests on calls to action, and most importantly increase lead flow!

10. Ultimate Landing Page and Coming Soon Page
Create a landing page or coming soon page in as little as 5 minutes without any programming or design skills. Create a landing page with a customizable permalink to build your email list. Launch a one page coming soon site and collect emails to notify those interested when your site or product is ready.

11. WordPress Welcome Redirect
Redirects your website visitors on their first visit to your landing page or any other special pages of your choice. This plugin is use for redirection of first time visitor.This plugin work on cookie concept. This plugin is developed using Advanced Php, javascript & Css.

12. Coming Soon / Maintenance mode Ready
The Coming Soon / Maintenance mode Ready! plugin is the best solution for your website, while it's under construction. Professional and simple way to setup launch page, the Coming Soon / Maintenance mode Ready! works with any theme on any hosting.

13. WP Maintenance Mode
Add a maintenance page to your blog that lets visitors know your blog is down for maintenance, or add a coming soon page for a new website. User with admin rights gets full access to the blog including the front end.

14. Parallax Gravity – Landing Page Builder
Parallax Gravity is a WordPress plugin that allows you to create unlimited landing pages. With Parallax Gravity you can add multiple sections within each page, for each section you can set a background, add any type of content including shortcodes from third party plugins and much more.

15. Easy Pricing Tables by Fatcat Apps
The Easy Pricing Tables WordPress Plugin makes it easy to create and publish beautiful pricing tables and comparison tables on your WordPress site. You will be able to set up and publish your pricing table in no time.