WordPress slider widget plugins are a fantastic way to showcase the blog posts you want to draw people's attention to. Everyday more and more website are using these amazing powerful, versatile and sleek tools to enhance the user experience. There are many free content slider widget available for WordPress which are very easy to implement.
I've selected some of the easiest to use and most recently updated best free content slider widgets for WordPress to help you narrow your search. Looking for these great looking content sliders myself, I figured it would be swell to create a list of the best ones and post it here. Don't forget to subscribe to our RSS-feed and follow us on Twitter and Facebook for recent updates.
If you like our art collection, so check out these other posts will interest you too: Free WordPress User Profile Plugins, Freelancer WordPress Premium Themes, Free Post Rating WordPress Widgets and Useful Free Business Intelligence Tools.
1. Image Gallery
Huge-IT Image Gallery is the best plugin to use if you want to be original with your website. Image gallery has specially made to allow it's users create a lot of ways to represent their images and information.

2. Slider
Huge-IT Slider is a quick and easy way to add custom sliders to the WordPress websites. The slider allows having unlimited amount of images with their titles and descriptions.
3. Portfolio Gallery
Portfolio Gallery is perfect for using for creating various portfolios or gallery within various views. The product allows adding descriptions and titles for each portfolio gallery. It is rather useful whever using with various pages and posts, as well as within custom location.

4. Responsive Photo Gallery
Responsive Photo Gallery is based on bootstrap framework. You can Add unlimited images on your blog site. Responsive Photo Gallery is provide fade animation, light box image preview and two gallery layout with various fonts.

5. Testimonials Slider
Testimonials Slider is a WordPress plugin which is inspired from a bxslider display testimonials for your blog, product or service. Automatically rotate testimonials in your sidebar. Create a list of testimonials page.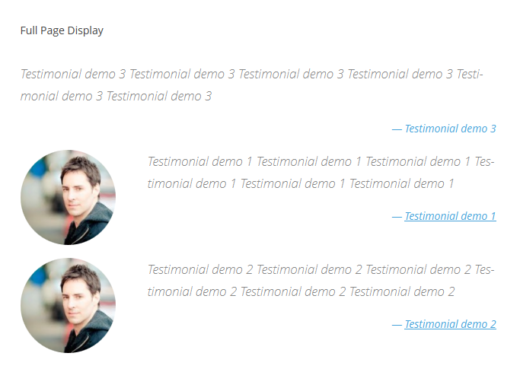 6. Testimonial Slider
Testimonial Slider is a plugin for WordPress that will help you show the Testimonials submitted by your Happy Customers in a clean, responsive and beautiful Slider format.

7. Neat Slider
Neat Slider is powerful and easy to use WordPress responsive slider plugin. Lets start build dynamic sliders for website pages. You can customize each slider as you like changing its width, height, Slides Transition and Appearance and other things.

8. Vertical Tab Slider
A very attractive and cool looking tabbing slider which gives a user to rotate their images and their defined description in slides with a great effect which are manageable using admin section.

9. MK Slider
MK Slider is a WordPress slider with stunning effects and very easy to use. You can create any number of sliders in a matter of seconds without coding & image editing.

10. Smooth Slider
It creates a dynamic slideshow/s for featured Posts, Pages, Media Images and Custom Post Types on a WordPress site. With live preview on admin panel, one can customize the slider before implementation.

11. Master Slider – Responsive Touch Slider
Master Slider is a free responsive image and content slider with super smooth hardware accelerated transitions. It supports touch navigation with pure swipe gesture that you have never experienced before.

12. Spyrowebz Slider
A plugin which Create a slider, with fade animation and show title and description with animation. You can hide title, description, arrows and thumbnail. You can Auto play and stop the slider. You can stop slide on mouse over.

13. Easy Content Slider
Easy Content Slider Easy Content Slider plugin is a wordpress plugin designed to create interactive content slider functionality with category into your wordpress website. Easy Content Slider plugin can be linked with very ease and with no hard understanding.

14. Simple HTML Slider
Simple HTML Slider a.k.a. SHTML Slider is a basic HTML content slider. SHTML Slider allows users to create HTML slides within seconds and without any fuzz. Users can use any type of HTML data in slider.

15. Latest Post Accordian Slider
This is one of the best Accordian Slider for displaying latest posts in wordpress. It is simplest and shortcode based plugin. It displays featured images of latest posts with title and content in slides.