This collection of free WordPress user profile plugins will be impressive for you to create your own profile on WordPress site or to build more site members. I hope you enjoyed this post! Please let us know in the comment section. Also be sure to bookmark this; you never know when it'll come in handy!
If you like our art collection, so check out these other posts will interest you too: Freelancer WordPress Premium Themes, Free Download Post Rating WordPress Widgets, Great Free WordPress Referral Plugins and Elegant WordPress Themes Using 960 Grid System.
1. Simple Author Box
Simple Author Box adds a responsive author box at the end of your posts, showing the author name, author gravatar and author description. It also adds over 30 social profile fields on WordPress user profile screen, allowing to display the author social icons.

2. Ultimate Profile Builder By CMSHelpLive
Ultimate Profile Builder by CMSHelpLive lets you create and manage profiles on your WordPress site! You can define custom user roles like Authors, Actors, Tennis Players or anything you want.

3. Front-End Users Plugin
Allow visitors to sign up as users on the front-end of your website only. Completely customizable, allows personalization of a website. Use shortcodes to insert registration, login or profile editing forms on any page of your website.

4. Profile Builder
Profile Builder is WordPress user registration done right. It lets you customize your website by adding a front-end menu for all your users, giving them a more flexible way to modify their user profile or register new users (front-end user registration).

5. WP Author Box Lite
Author Box Lite creates responsive profile and latest posts box to increase reader engagement. This also automatically add google+ profile authorship. Desktop, laptop, tablet or mobile phone, WP – Author Box Lite will adjust and look good on it.

6. Author Box After Posts
Adds an author box after your post contents, with Gravatar and social profile links. Set custom avartar image instead of registering Gravartar account.

7. Custom User Profile Photo
A more flexible way to attach and display a photo for a WordPress user profile. Some users might not have or want to have a gravatar account or other universal avatar account. They simply may want to use a one-time specified photo to represent them on your WordPress site.

8. Extra User Fields
Add extra meta fields for user account owners to provide inputs in thier profiles. Easy to use, simple and dynamic configurations. Admin-only control fields in addition to fields managable by account owners.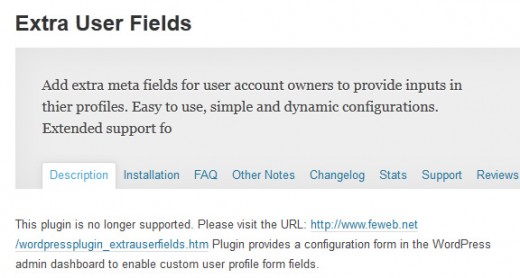 9. Metronet Profile Picture
Set a custom profile image for a user using the standard WordPress media upload tool. A template tag is supplied for outputting to a theme and the option to override a user's default avatar is also available.

10. Simple User Profile
Simplify your user profile by removing fields your users don't need and removing or changing the section header text. You can minimize the profile down as far as only username, email, and change password.