Rating is one of the most exciting parts of a website. It is enjoyable for both of admin and visitors and also measured the popularity of post or comments. Getting user ratings for posts, pages and even for individual comments is one of the best ways of evaluating the quality of blogging. Following are the some of the best free wordpress post ratings widgets available.
You are most welcome to suggest any additions to this list. You can use the comments box below to make any suggestions. If you like this article, you might be interested in some of our other articles on: Free WordPress Referral Plugins, Free Business Intelligence Tools, Free HTML5 WordPress Themes 2014 and WordPress Themes Using 960 Grid System.
1. Super Post
This plugin gives you all the controls for any post queries, for any post type and any other extended options for displaying your very important post, recent, popular sticky, or related posts. Can be used to display specific post from categories or post tags.

2. MN Star Rating
MN-StarRating WordPress plugin allows you to create and manage ratings from within your WordPress dashboard. You can embed star ratings into your posts and pages. This rating module is fully customizable, cross-browser, CSS3 compliant and millions of color options to choose from.

3. Multi Rating
Multi Rating is a simple rating plugin which allows visitors to rate a post based on multiple criteria and questions. It is responsive, easy to use and integrates seamlessly into any WordPress theme.

4. Rating-Widget – Star Rating System
The Rating-Widget Star Ratings WordPress plugin allows you to create and manage ratings from within your WordPress dashboard. You can embed thumb & star ratings into your posts, pages or comments.

5. CM Answers
CM Answers is a plugin for WordPress that enables users to post questions and answers (Q&A) in a Stackoverflow style. Plugin also includes social media registration using Facebook, LinkedIn or Google+, Twitter & Microsoft Live authentication.

6. I Recommend This
This plugin allows your visitors to simply like/recommend your posts instead of comment on it. A counter to display the number of "like" and to vote. A widget and a function to display the X most liked posts.

7. My Optional Modules
My Optional Modules (or MOM) is a bundle of optional modules for WordPress which give extra functionality not currently available in a fresh installation. They are designed to be lightweight and easilly implemented by even the most novice of WordPress users.

8. BuddyPress Rate Forum Posts
Users can rate forum posts in BuddyPress. Good posts are highlighted and poor posts diminished. Highlighted karma points shown for each user. Only works with forums for groups; not compatible with site wide forums.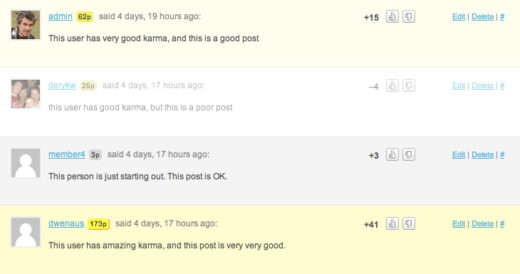 9. Post Rate
Dieses Plugin wird unter jedem einzelnen Artikel fünf Sterne einfügen. Besucher Ihrer Internetseite können die Artikel darüber bewerten.

10. Wp Multiratings
WP-Multiratings plugin allows site administrators, webmasters and theme developers to include post rating functionality on their website.The website administrators can create multiple ratings for a given post based on post category.