WordPress is the most powerful and uses CMS in the online world. Apart from, WordPress will be the most useful platform for developing the websites in 2015. There are millions of free WordPress themes, and it is difficult to find the best ones amid endless of them. In this roundup, I handpicked 10 beautiful free WordPress themes 2015 to create your own blog.
Whether it's for your personal use or for a more professional purpose, these themes are all of high quality and meet the current trends. They are responsive, multipurpose, minimalist, sophisticated and give a touch of elegance to your personalized and innovative online creations. Don't forget to give your most welcomed feedback to improve quality of our blog.
You might also want to take a look at our previous selections:
1. Museum
Museum is crafted to showcase your best photographs, drawings, or illustrations. Featuring elegant, museum-inspired typography and ample room for your images, Museum pays special attention to category and media attachment pages to help your collections shine.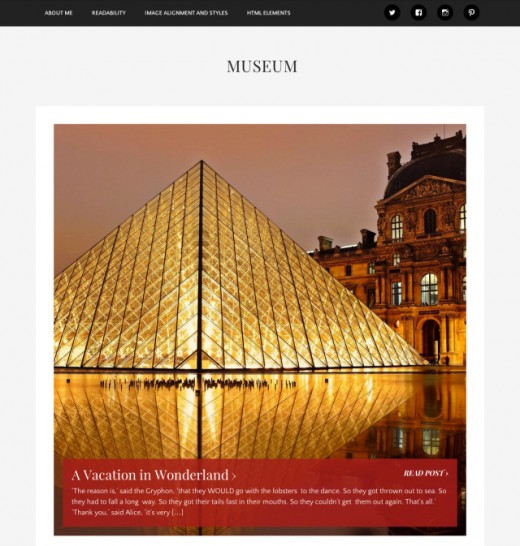 2. Radcliffe
Radcliffe is a bold theme with beautiful typography and full-width header images. It's the perfect theme for bloggers who want their content to take center stage. Radcliffe is fully responsive and looks great on a large desktop display all the way down to mobile. It adapts and maintains its eye-catching appearance on any screen size, allowing your visitors to fully experience your site on all devices.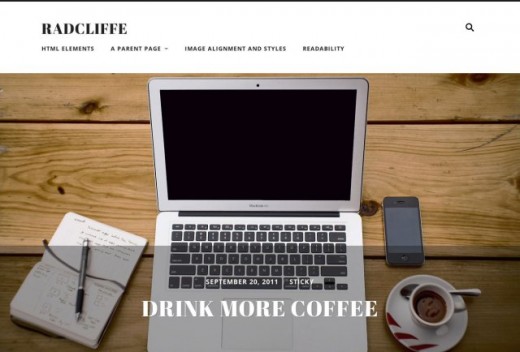 3. Twenty Fifteen
The annual WordPress theme for 2015 is super-clean, content-focused, and designed to bring a little more simplicity to our blogs. Its careful attention to typography, featuring the expertly designed Noto font set in elegant and harmonious margins, makes it beautiful in multiple languages around the world.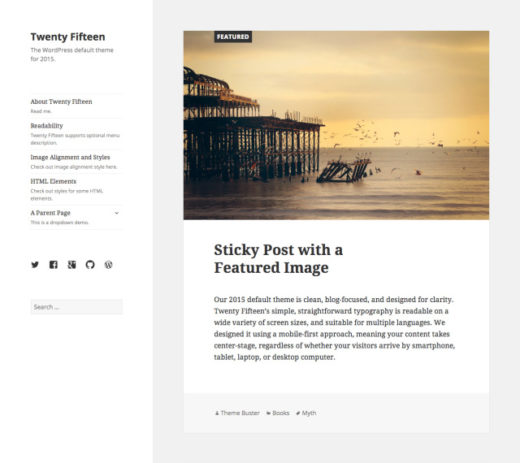 4. Sequential
Sequential is a contemporary, clean, and multi-purpose theme that helps you to create a strong online presence for your business. Sequential looks great on devices of all sizes, from desktop to mobile and everything in between. The theme adapts to any screen without sacrificing usability or design integrity.
5. Editor
Geared toward personal bloggers and photo bloggers, Editor includes big typography and images, plus a tab-based sidebar with a spot for a social links menu, featured posts, and a site logo. Add your chosen tag to the posts you'd like to include in the featured posts area in the sidebar, which will be visible when you click the pushpin icon.
6. Minnow
Minnow is designed to put your social presence front and center by displaying your social links menu prominently below the site title and logo, so readers can easily find you on your favorite social networks. When activated, your Custom Menu or Widgets will appear in a slide-out sidebar; click on the menu icon (three horizontal lines) in the upper right corner to show them.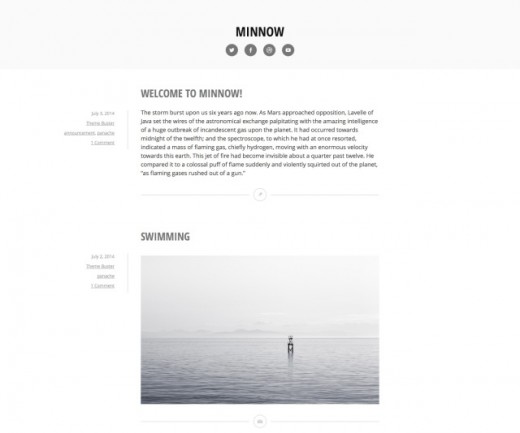 7. Cols
Cols is a novel theme that lets you tell your stories without the layout getting in the way. The style is simple, but strong. Standard-format posts are displayed in a newspaper-like layout, with three columns on large monitors, two columns on medium-sized displays, and a one-column layout on small screens like phones.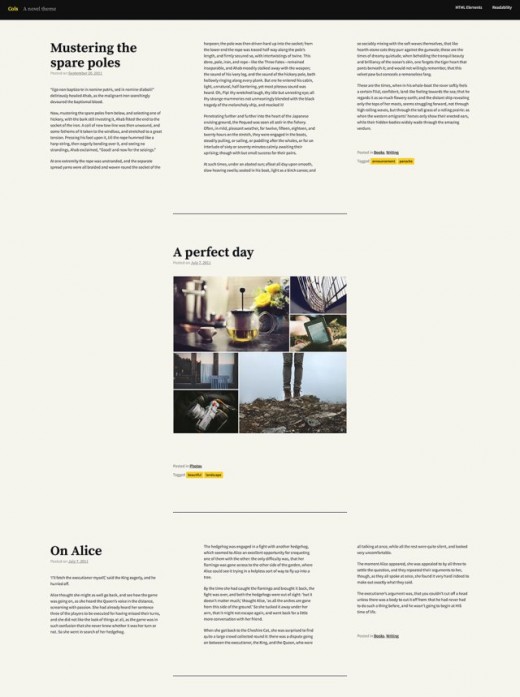 8. Plane
Plane is a versatile, two-column blog theme. Based on the Flato theme, its clean and modern design makes it the perfect home for your content. Plane comes with one Custom Menu located in the header, above the Site Title. If no menu is assigned, a list of all published Pages will be displayed instead.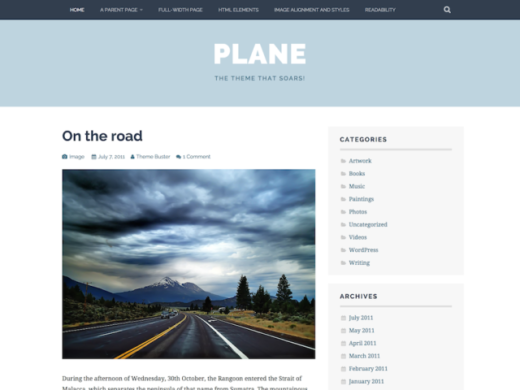 9. Together
Bring everyone together around your blog for the holidays, with Together. It's a bold, one-column theme for your personal blog with a featured illustration. Post Formats and Sticky Posts are accented with larger images and different background colors to set them apart from the rest of your content.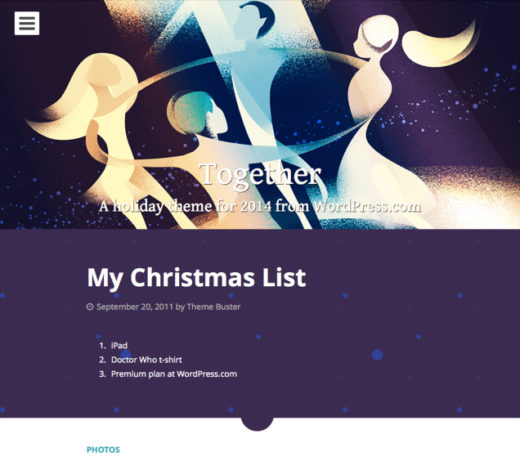 10. Capoverso
Capoverso is a minimalist theme with strong typography, designed for those who want to make a bold statement in a simple way. The unique Front Page template allows you to display a large featured image of your choosing, overlaid with brief introductory text and a custom menu, allowing your readers to focus on your content by presenting them with the bare essentials.