When building a WordPress multisite network it can be challenging to find plugins that will be compatible across the network. It is best that you use any of the best free WordPress contact plugins. If you are using WordPress, then you can use WordPress plugins to build your contact form easily.
The following are some of the best free WordPress contact plugins that you can try. Make sure the form you are looking at is compatible with your version of wordpress and test the demos to set how they work and how they look. In this guide I've organized a number of helpful plugins you may want to use when putting together a new WordPress project.
If you enjoyed this post, please consider to subscribe to the feed and get future articles delivered to your feed reader. You may be interested in the following modern trends related articles as well: Red Business Card Designs, Restaurant Logo Designs, Cool WordPress Digital Themes and Landing Page Design Examples.
1. Podio Webforms
Easily add your Podio Webforms anywhere in WordPress via shortcode. Don't worry about all that Podio Webform code, and you don't have to switch to the HTML Editor to paste anything.

2. Contact Form 7 Modules
Contact Form 7 – Add useful modules such as hidden fields and "send all fields" to the Contact Form 7 plugin.
3. Contact Form 7 Tag field
Contact Form 7 – Add a new field to the module that enables the user to add tags to his message via a tag field.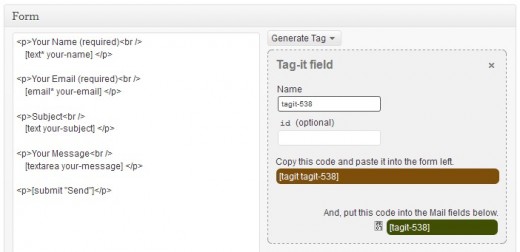 4. Sexy Contact Form
Sexy Contact Form – The Sexiest way to get contacted! You will be surprised by count of all the possible features!
5. Contact Form
The Contact Form plugin allows you to implement a feedback form to a web-page or a post in no time. It is an extremely easy form.
6. Gravity Forms Directory
Gravity Forms is already the easiest form plugin…now, the Gravity Forms Directory & Addons plugin turns Gravity Forms into a great directory.
7. Contact Form Clean and Simple
A clean and simple AJAX contact form with Google reCAPTCHA, Twitter Bootstrap markup and Akismet spam filtering.
8. Gravity Forms Salesforce Add-on
This free Salesforce Add-On for Gravity Forms adds contacts into Salesforce automatically, making customer relationship management simple.
9. MailChimp Form
The MailChimp Form by ContactUs.com adds a newsletter signup form that can be easily integrated with your MailChimp account from within the plugin.
10. WordPress Contacts
Spider Contacts helps you to display information about the group of people more intelligible, effective and convenient.
11. Contact Form 7 Honeypot
Contact Form 7 Honeypot – Adds honeypot anti-spam functionality to CF7 forms.
12. Responsive Contact Form
Contact Us Form is a simple WordPress plugin that generates a responsive contact form on your website or blog.
13. Gravity Forms Highrise Add-on
This free Highrise Add-On for Gravity Forms adds contacts into Highrise automatically, making customer relationship management simple.
14. GetResponse Integration
This plug-in enables installation of a GetResponse fully customizable sign up form on your WordPress site or blog.
15. Contact Form 7 Phone Module
This plugin adds telephone field to Contact Form 7 along with masking options.
16. Contact Us Page Builder
Create forms and pages in minutes with our drag and drop form builder. Produce contact forms, order forms, just about anything else you can think of!
17. Connections Business Directory
Connections is a simple to use directory manager which can be used to create an addressbook, business directory, staff directory or church directory.
18. Simple Ajax Contact Form
Simple Ajax Contact Form is designed for WordPress plugin. This multilingual contact form is easy to configure.