Grunge style is very popular among the web and graphic designers. Grunge style came out of the music scene of 90s and currently rocks the world of fashion and design. It creates its relaxed and at the same time daring atmosphere by making the best use of solid and weathered interfaces. If you are a blogger and you wish to give your blog a grungy look then this post is very useful for you.
In this post we have unfolded some of the useful free WordPress themes that reflect upon grunge style. These themes go far beyond the realm of creativity and jazz up even such spheres as consulting and food industry. It's so simple to manage contents of your page with post categories, shortcodes and multiple styling options! Don't forget to give your most welcomed feedback to improve quality of our blog.
You may want to take a look at the following related articles:
1. Greyzed
Greyzed is dirty and grungy-looking but that's just what makes it so good! While it looks rough on the outside it's been carefully designed and it isn't short on features. Starting at the top, it has a really sharp drop-down menu ready for our menus feature. The distinctive Greyzed design elements are repeated throughout your blog and finish off nicely at the bottom of each page with an optional extra-large widgetized footer in the same tough style.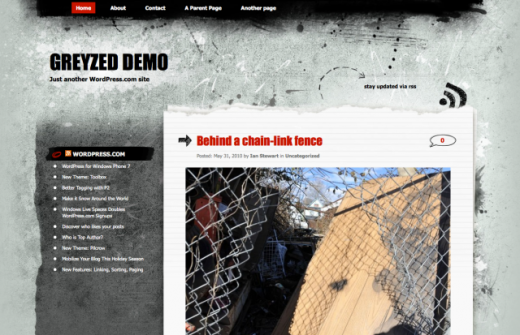 2. Modularity Lite
Modularity Lite is a minimally styled photo theme with a Custom Header and Custom Background. Even though it's minimally styled, the built-in grunge background and dark color give it a bit of edge. It's perfect for blogs that want to showcase photos and aren't afraid to bare their teeth.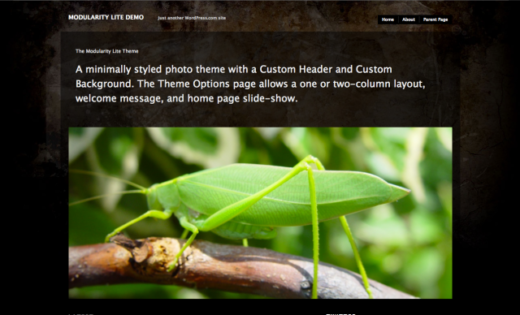 3. Matala
With its Talavera pottery-inspired bright colors, dynamic shapes, grungy textures and whimsically off-kilter text in the main menu, Matala will give your site a fun, colorful feel. Matala sports a two-column layout with a right sidebar, making it perfect for journal-style blogs.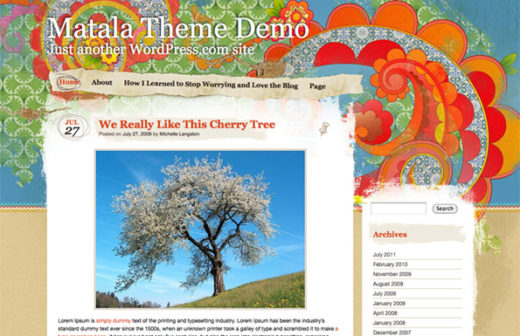 4. Dusk To Dawn
The Dusk To Dawn theme melds old-style organic ornaments with modern design and elegant typography. While it is beautiful in its own right, Dusk To Dawn is flexible enough that you can customize its design using the latest WordPress features. With the Dusk To Dawn theme you can set your own accent color in Appearance → Theme Options, which is used in links and several places throughout the theme.
5. Elegant Grunge
An unwashed yet crisp theme with layout options, support for custom header, widget-ready footer, and an optional full-width page template that removes the sidebar.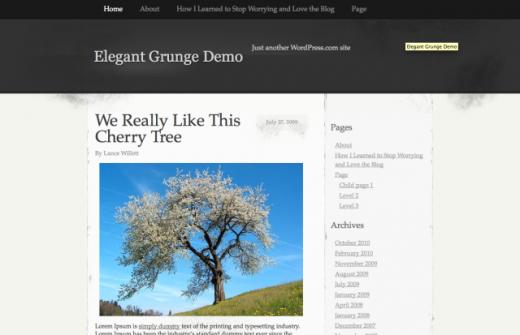 6. Rusty Grunge
This theme, which goes by the appropriately evocative name of Rusty Grunge, has all the rusty and grungy elements needed to appeal to all those who embrace grunginess in themes. It is also flexible enough to accommodate different uses, from a personal site, to a music band journal.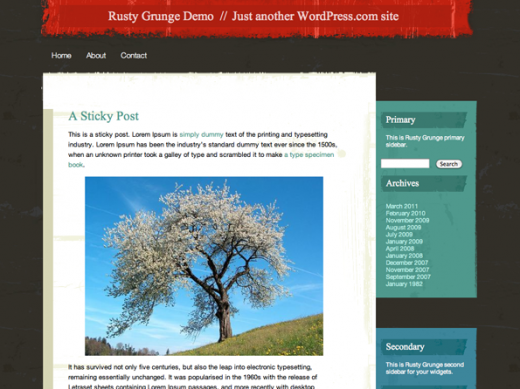 7. Bold Life
Live out loud with this bold, colorful theme. Its fun and vibrant design gives your site a fresh look. Bold Life lends itself well to blogs and journals but works great for displaying any type of content. Bold Life includes a page template for removing the sidebar on pages. To activate it for a page, simply choose "One column, no sidebar" from the page editor with the "Template" chooser in "Page Attributes" area.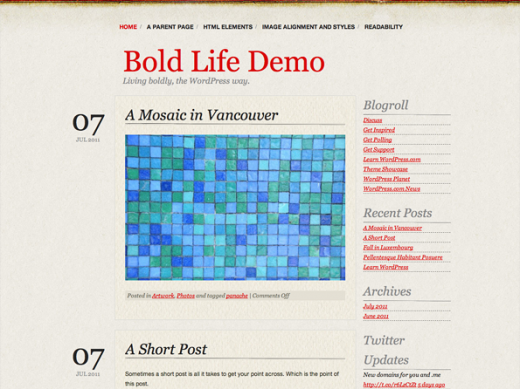 8. Cheer
Chronicle your festive adventures and spread some holiday "Cheer" with this decorative theme, featuring a sweet little elf and two festive color schemes. Cheer allows you to set a flexible-height and/or flexible-width custom header under Appearance -> Header. You can also customize the theme with a background color or image by going to Appearance -> Background.