If you are new to website development and getting your feet wet with WordPress, the world of plugins can seem rather overwhelming. Anyone who works with clients or customers will inevitably need a way to provide customer service. When you do, you want your customer service efforts to be a good experience for your customers. Do you run a service based website? Do you sell products or software on your WordPress website? Well if you do, you would realize the importance of a good customer support system.
So, here in our today's post we have listed some of the amazing free WordPress customer support widgets for your projects. These customer support improvements can be integrated into WordPress using widgets. To really improve your customer service you need more than that. To be stellar, customer service needs to improve. You need more powerful systems to knock it out of the park. If you enjoyed this post, please consider to subscribe to the feed and get future articles delivered to your feed reader.
You may want to take a look at the following related articles:
1. Inbox by Zendesk
Inbox by Zendesk helps your team manage emails together. It lets you talk among yourselves, respond as one, and be there for your people. All messages are managed in Inbox's easy-to-use shared email interface, where your team conversations happen faster, and your client's questions get answered correctly. Sign up for free, add a few teammates, and try it out today. Easy to deploy contact form; integrate the Web Widget on your website in just a click and allow your customers to effortlessly find a way to contact you.

2. Live Chat
Live Chat allows you to easily add live chat to your website in under 30 seconds! It's packed with features and supports unlimited live chat agents. Be there the moment your audience needs you so you can delight customers and sell more. Agents chat directly in their browsers and are notified via desktop, mobile push, and email notifications on each new live chat request.

3. WP Support Ticket
Use this plugin to create your own customer support system. Let customers of your site to generate a support ticket when ever they require assistance from you, and you will be able to solve their issues by posting replies to the tickets. The customers will get email notifications when ever you add a reply message to the ticket. Registered Users / Customers can create support tickets. Customers can search tickets from tickets list. Admin can reply on support tickets from admin panel.

4. CustomerICare Live Chat
Livechat by CustomerICare. The WordPress Widget is a free application to chat with visitors on your website. The plugin adds a beautiful live chat box that allows text, audio and video, sending files plus web analytics. One-click installation. Can't be easier. You can see people on your site. You can contact had-picked people on your website. Paint it with any color you want. Chat in any language you know – it will even work in Chinese! Positionable design – put the chat box left or right.

5. WP Live Chat Support
The most cost effective Live Chat plugin. Chat with your visitors for free! WP Live Chat Support is perfect for small businesses. No third party connections or subscriptions required. There's no need to pay for live chat monthly subscriptions in order to better understand your visitors. This is a fully functional live chat plugin. Increase your conversion rates by communicating directly with your visitors when they're ready to do so using WP Live Chat Support.

6. UserDeck Customer Support
UserDeck provides customer support software that embeds into your WordPress website. A ticketing system to allow your customers to contact you through email and embedded widgets. Inline widget can be used as a contact form or a ticket portal to let users manage tickets from inside the WordPress control panel. Integrates with WordPress for authenticated sessions to track user name and email on tickets.
7. The Client Relations Factory
This plug in allows you to provide a new and automatic service attention on your web site that turns visits into customers. A virtual robot can humanize the technology in order to empathize and to build trust with customers. Not only can the knowledge of the character, its appearance be modified depending on what you like. That is possible because this plugin let you have your own Virtual Robot from TCRF fully integrated within WordPress.

8. Live Chat Software by HelpOnClick
Give your customers the human touch with the reassuring and satisfying return to person-to-person customer service that only live chat can provide. And not only that, tests have shown that human engagement through a live chat can have a positive effect on sales and conversions. The easy-to-use HelpOnClick chat widget not only gives you the power of real time traffic monitoring, but will also have your customers asking the questions and getting the help they need.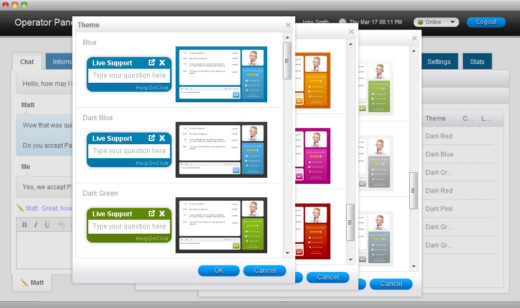 9. Usersnap
Usersnap is the screenshot- and bug tracking tool for WordPress. Get browser screenshots and visual bug reports with additional browser information directly delivered to your dashboard. Annotate and send browser screenshots and bug reports to Usersnap or your existing bug tracking and project management tools. Get understandable bug reports and visual feedback from your customers without installing anything! Never ask for a browser screenshot again.
10. BizChatBox
BizChatBox is a web app that makes it easy for website owners to chat with their visitors from anywhere! BizChatBox is packed with all the features you need to provide premium customer support. It is light weight, reliable, customizable and scalable chat widget. Gain your competitive advantage today.

11. JivoChat – a Live Chat for Your Site
JivoChat helps curious customers receive immediate answers in live chat – without having to call or send emails and right on your website! Be quick about answering your buyers, and the conversion on your website will increase dramatically. Offering assistance before questions are asked with proactive chats turns casual visitors into happy customers. Agents can take chats with our convenient desktop app for Mac/Windows, our browser app and our mobile app too!

12. Chatnox Live Chat
Chatnox is a Super Easy live chat system that adds a beautiful live-chat widget to WordPress. Engage with visitors and convert more sales via live chat. Answer questions, provide support using Chatnox Live Chat. Real-time visitor monitoring allows you to see who's on your website and live chat with them. Fully customizable live chat widget. Use your own language, Colors and messaging. Offline messaging allows your visitors to leave you messages when you are not online to take live chat.