WordPress is the most widely used and adaptable content management system out there, but you're probably going to want some plugins to make it just right for your needs. As a blogger, one of our core tasks is to write awesome content that people can't help but want to read. Then there's the promotion of our blog posts, networking and the building of relationships with other bloggers.
Check out this list of top free productivity WordPress plugins and find out which plugins you should be using to improve your blogging efficiency. You are most welcome to suggest any additions to this list. You can use the comments box below to make any suggestions. You may be interested in the following posts: Free Post Thumbnail Widgets for WordPress, Free Custom Menu WordPress Themes and Free WordPress Error 404 Plugins.
1. Zedity
Zedity is a revolutionary visual editor to create your posts and pages as naturally as drawing on paper! With absolutely no coding skill required, you can now create your content super easily, with unprecedented possibilities and saving a lot of time! Zedity enables you to create your content entirely visually, as naturally as if you're sketching on a piece of paper. HTML5 code is automatically generated for you, totally hassle-free!

2. Admin Starred Posts
Admin Starred Posts lets you mark posts, pages and custom posts within the WordPress admin with stars. This helps you highlight a post, or mark it so you remember is important. For example, you might have tons of pages, but are always editing one or two. In that case, star those pages, and they'll be easily recognizable in your list of posts. The plugin works out of the box, but you also get some configuration options to help you customize it to your workflow.

3. SP Project & Document Manager
Project & document management plugin, Businesses & Organization utilizing this application can maintain documents, records, files, videos and images. You can organize, manage client, student & supplier documents and accounts, control individual documents, and select specific distribution of documents all in an easy to manage online process. The plug-in also demonstrates how quickly a business can take hold of their interactions with clients, sales organization, vendors, and all in between.

4. Smart Manager for e-Commerce
Smart Manager is a unique, revolutionary tool that gives you the power to efficiently manage products, product variations, customers and orders using the popular WordPress e-Commerce plugins WooCommerce from WooThemes and WPeC from GetShopped / Instinct. As a business owner, your time is better spent on marketing and customer service than on store administration.

5. Mara Noia Extended Page Actions
This plugin adds a "create new sibling" and a "create new child" button on the page edit page. This way you can easily create a new sibling or child directly from the active page, without having to choose the parent. Further more you get a list of siblings of the current page, to make it fast to switch between editing siblings.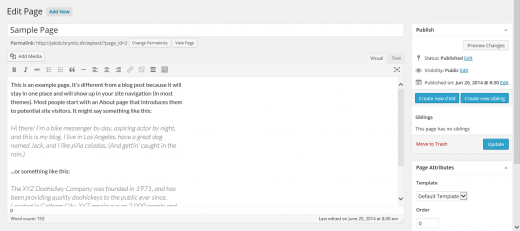 6. OnePress Image Elevator
Image Elevator allows you to paste images into your posts directly from clipboard! In other words, you can paste images directly from your favorite graphical editors or from any screen capture programs. Just copy & paste.

7. Ozh' Admin Drop Down Menu
The lazy and the productive will love it : all admin links available in a neat horizontal CSS driven drop down menu. No need to click on "Manage" then "Pages" to edit pages. And plenty more space on your screen. For documentation, examples and screenshots, please refer to the official plugin page for Admin Drop Down Menu.

8. WP Author Report Free
WP Author Report is the only productivity tool for WordPress which will generate detail report how authors are working, how many posts they are making, per day, per week, per month or any duration you want to see. You could also see how those posts are getting response in terms of views count. This plugin will prepare report about how authors are doing day by day basis. You could generate report for any specific time.

9. Loco Translate
The Loco Translate plugin provides in-browser editing of PO files used for localizing WordPress plugins and themes. Built-in translation editor within WordPress admin. Create and update language files directly in your theme or plugin. Extraction of translatable strings from your source code. Native MO file compilation without the need for Gettext on your system. Support for PO features including comments, references and plural forms.

10. Admin Bookmarks
This plugin allows you to easily bookmark posts, pages and custom post types. When you 'star' a post a shortcut link will appear in the admin menu. Use this plugin if you constantly find yourself editing the same posts or pages, and are sick of showing the list of posts first, then finding the post, then clicking edit. Intuitive interface to bookmark posts using a star icon. Uses the new WP3.8 dashicons icon font.