Custom menus in WordPress may contain links to pages, categories, custom links or other content types. You can also specify a different navigation label for a menu item as well as assign other attributes. WordPress allows you to create your own menus and menu structure. Using the menu editor you can create multiple menus and then assign them to specific menu locations on your website.
So, here in our today's post we have compiled a list of some of the fantastic custom menu free themes for wordpress that are useful for your wordpress blogs. Don't forget to subscribe to our RSS-feed and follow us on Twitter and Facebook for recent updates. You may be interested in the following posts: Free Post Thumbnail Widgets for WordPress, Premium 4 Column Themes for WordPress and Free WordPress Plugins for Financial Blogs.
1. Resonar
Resonar is an elegant blog theme that features full-screen Featured Images. It's perfect for blogs about fashion, food, or design, and the layout works especially well for your longform features with large images. The theme, pairing gorgeous images with beautiful typography, helps you create posts that will make a visual impact – and resonate with your readers. Each post displays a full-screen Featured Image, which helps to visually tell your story. The large Featured Image is also used for a Sticky Post on your blog's homepage. It works best at 2000px wide and 1500px high.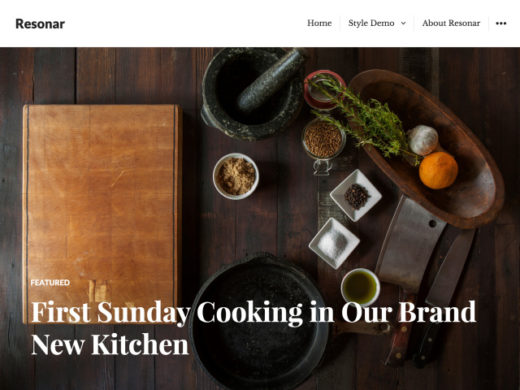 2. Lyretail
Lyretail puts your social presence front and center, displaying social links prominently below the site title and logo, so readers can easily find you on your favorite social networks. When activated, your Custom Menu or Widgets will appear in a convenient slide-down menu. You can also set a Custom Header or Featured Image for your posts or pages to add a splash of visual interest in the header.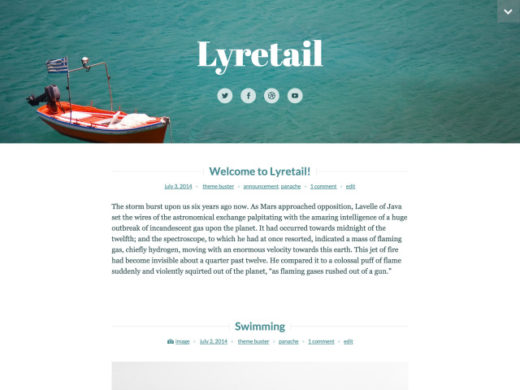 3. Hew
Hew is a personal-blogging theme with a distinct identity and a splash of color. It's all about sharing your thoughts and experiences, and connecting with your readers through prominently placed social media links. Hew's single, centered column puts your content in the spotlight, providing an enjoyable reading experience across all devices. Hew offers four widget areas, located in a slide-out top panel. To show and hide the panel, click the three dots icon in the header's top right corner.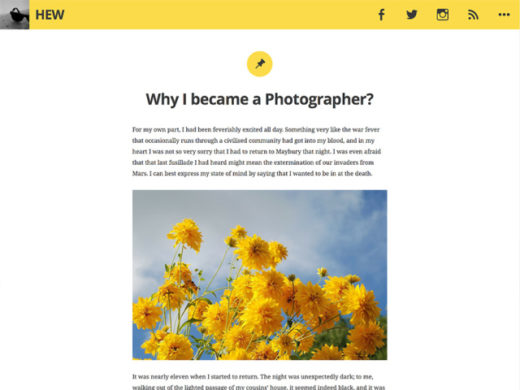 4. Scrawl
Scrawl is a clean, responsive theme for longform writing, with bold featured images, fancy image captions and pull quotes, and plenty of space for your content to shine. Post details fade in when you hover over them, so readers can focus entirely on your beautiful content when not navigating your site. A slide-out sidebar provides ready access to secondary content, including social links, custom menus, and widgets.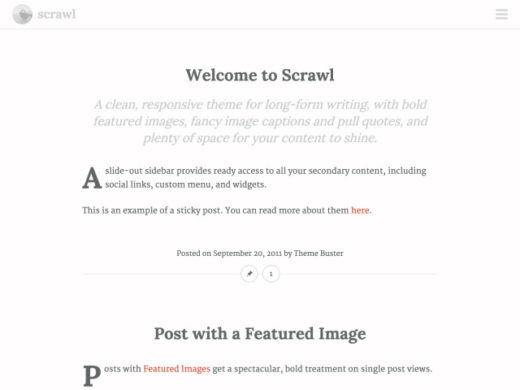 5. Satellite
Satellite is a snappy personal blogging theme with beautiful typography, prominent featured images, and a fresh, modern look. If you add a site logo, it will appear in the upper-left corner next to your site title, and in the slide-out sidebar above the site title. If you'd prefer to display your Gravatar in these areas instead, navigate to Customize → Theme and put your email address in the text field to show the Gravatar associated with that email account.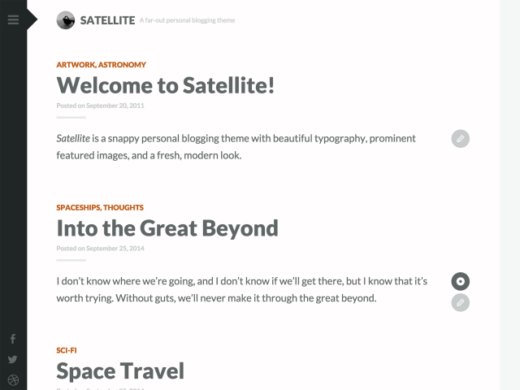 6. Saga
Saga, a theme tailor-made for writers, by a writer. Saga's impeccable typography and attention to detail make for an enjoyable reading experience, and with support for large featured images and multiple post formats, the theme is flexible enough to be used as a photoblog, a personal journal, or a tumblelog.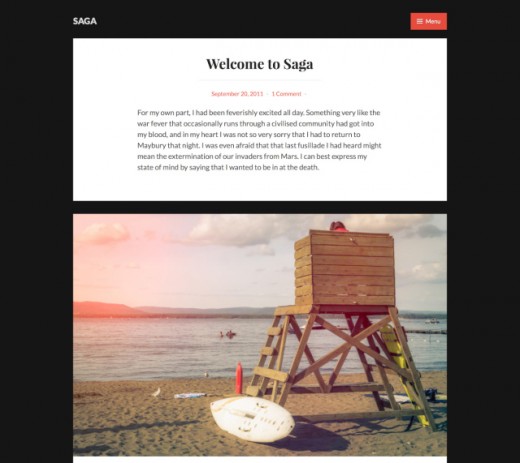 7. Boardwalk
Boardwalk, a flexible, versatile, and responsive theme designed to show off your content in an unconventional – yet elegant and creative – way. Boardwalk allows you to have two Custom Menus: one in the theme's slide-out sidebar (Primary Menu) and one in the footer (Social Menu). Boardwalk also allows you to display links to your social media profiles with crisp, perfectly-sized icons.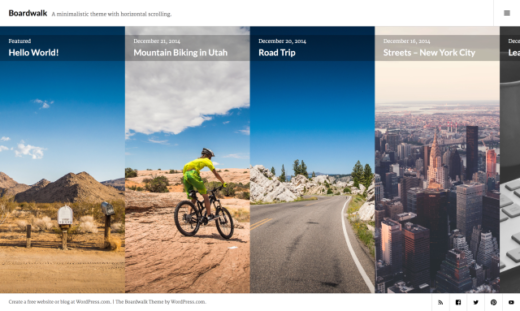 8. Cubic
Cubic, a single-column, grid-based theme with large featured images, perfect for photoblogging. If you'd like to add descriptions underneath your menu items, visit the Menus page in your dashboard and open the Screen Options tab. Under "Show advanced menu properties," select "Description" to start editing menu descriptions. Cubic also allows you to display links to your social media profiles with crisp, perfectly-sized icons.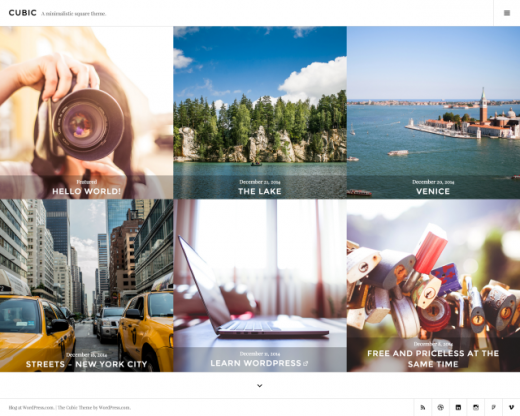 9. Plane
Plane is a versatile, two-column blog theme. Based on the Flato theme, its clean and modern design makes it the perfect home for your content. A responsive design, Plane provides visitors with a great browsing experience, no matter the device. Plane comes with one Custom Menu located in the header, above the Site Title. If no menu is assigned, a list of all published Pages will be displayed instead. Plane offers a total of five widget areas that can be configured via Appearance → Widgets, or through the Customizer. One widget area is in the sidebar while four are above the footer.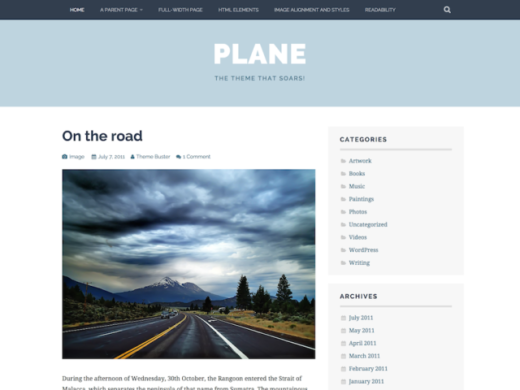 10. Wilson
Wilson mixes minimal and bold just right. It's a clean and simple theme for personal sites and blogs, easy to make your own with a site logo. Use post formats to highlight your content, add a custom menu, or take advantage of three widget areas: one in the left sidebar, and two in the footer. Wilson supports a Social Links Menu, giving you an easy way for your site visitors to discover your social profiles.