One of the biggest challenges in the life of an artist is exposing their work: sharing their passion and talent with the world. Once you have your painting ready or that great perspective right there on your camera, how do you best expose it so that other can appreciate it? In this article we will give everyone some pointers on how to make a website for free, if you're not a web designer.
We are not all gurus when it comes to creating a website, most of us need some help. Not to mention that we may not have the time to create a website using programming skills from scratch. Even more, how could an artist get involve in creating such a website when his talent is in a completely different area?
Believe it or not, there is a very easy way to solve all of those problems, no programming skills needed, with Wix Pro Gallery.
Get ready to be seen by thousands and appreciated by millions, as this professional online gallery will do exactly that and even more. It is time to focus on your art and worry less about how to share it.
Wix Pro Gallery is the paint to your brush, the view to your camera: necessary. It comes with advanced image settings that will help you control the quality and sharpness of your photos, which means that the final result will be exactly what you wished for.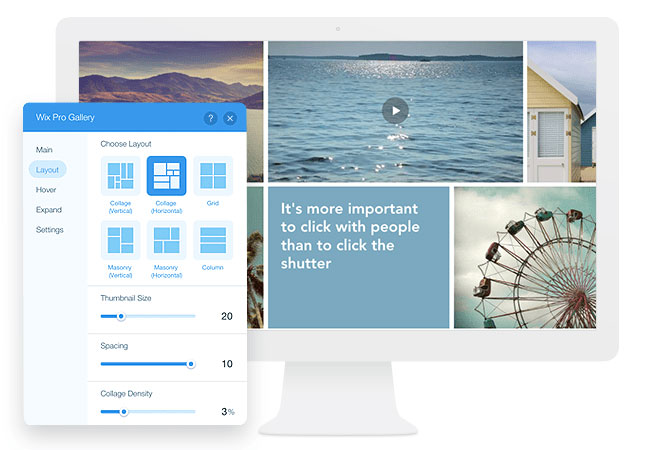 Moreover, you can keep your images safe thanks to the built-in image protection. You can even take it to the next level and easily customize your gallery with auto-play videos and colorful text boxes – it really brings out the artist in you.
Here are some of the things you can do with Wix Pro Gallery:
Set the sharpness of your pictures
Protect your art with the built-in image control
Images are optimized for each mobile device
Easy social media sharing
Visitors can "heart" your photos with one click
Allow downloadable videos and photos
Choose the perfect layout from 9 different choices
Amaze visitors with videos, photos and text boxes
The basic package (you don't pay anything) comes with so many great features that you won't need anything else. It will allow you to shape your vision the way you want it, in an easy way. You don't need to be a programmer to achieve greatness online, as Wix will lead the way.
No matter the art you're creating, sharing it with Wix Pro Gallery will add tremendous value to it. If you are a painter, simply take pictures of your paintings and create a stunning website. Share it with your friends and let the world know how great you are.
If you are a photographer, download the photos from your camera and add them to your Wix Pro Gallery; this way, you have your very own professional gallery in just a few minutes, with no bumps in the way.
You create beautiful sculptures? Wix has room for that too. Take a moment to imagine your work, your art, your passion being admired by thousands of people worldwide, and keep in mind that you invested so little effort. That feeling of accomplishment inside your chest won't ever be taken away.
It is time to bring your art to life and see how people respond to it. Get motivation from seeing people hearting your images and leaving comments. Create your very own community, take advice from those around you, share your experience and create vivid new ones. All with one easy to use application.
Wix Pro Gallery allows you to create a custom professional gallery that will mirror your art and personality. Add text boxes to bring more personality to your website, add a heart icon to your photos so that visitors can choose their favorites easily and let them download some of your art so that they can feel like they have a part of you with them.
Endless possibilities with one easy-to-use app.
Wix Pro Gallery allows you to play with so many features that you will start feeling like a pro in no time. If you have a storage of great photos unpublished, it is time to take the dust off of them and let them shine, as this tool is ready to polish your work and show its real value. No more excuses, no more wasting time, no more unshared photos.
Are you ready to get recognized by millions and start getting some extra motivation?