A dedicated WordPress Mobile Theme can prepare your business for the mobile future. Now a customer wants equally delightful browsing experience on his/her mobile because Mobile is one thing that majority of us carry with us always, no matter where we go. When you are outdoor, your mobile phones have to be the gateway to the outside world. This is where the need of the websites compatible to the mobiles lies.
So here, in this useful post, you'll find some of the best premium WordPress mobile themes because We all know that we're going to use our blog as a tool to promote our business, so we need to have a clean, professional, corporate look. So avail these WordPress themes as early as possible and make your site or blog mobile friendly.
1. WOW! mySite WordPress Mobile Theme
With WOW ! mySite you design your own mobile website with nine customizable preset colour schemes, powerful theme configuration options and multiple page templates.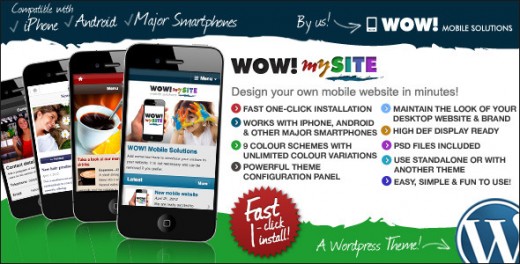 2. Stacker – Responsive WordPress Theme
The stacker is very useful theme. It has many useful features as like: Working Ajax contact form with inline validation, Photoswipe and flexslider, 3 Page templates etc.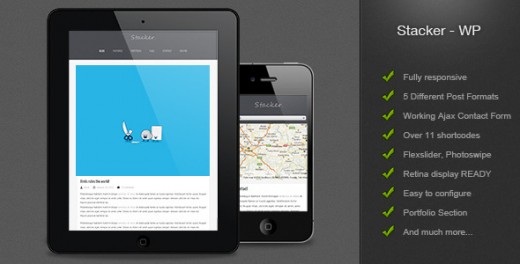 3. Breathe – WordPress
Heavily themed jQuery Mobile based template which suits the best for your blog or portfolio page and it's easy customizable via Theme Options.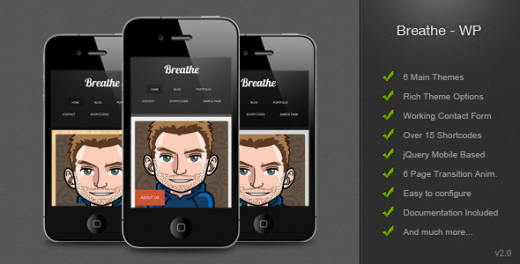 4. iKon – WordPress Mobile Theme
iKon is WordPress theme designed exclusive for Iphone and Android devices.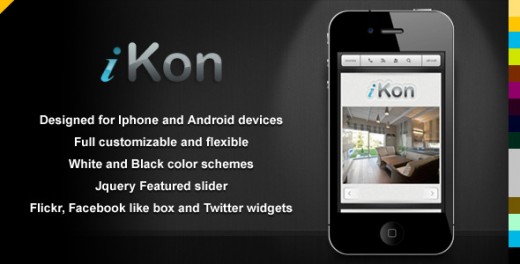 5. Touch Mobile & Tablet WordPress Theme
Touch Mobile & Tablet is a WordPress theme built with HTML5 and CSS3 for mobile and tablet devices.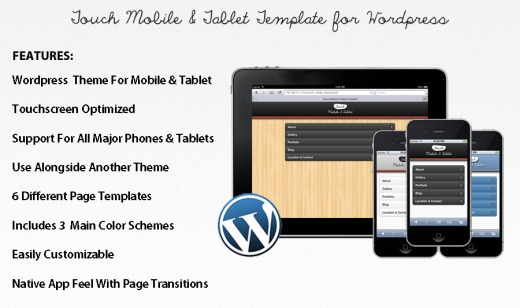 6. My Mobile Page V3 WordPress Theme
My Mobile Page V3 WordPress Theme is the third version of "My mobile page" wordpress mobile theme series.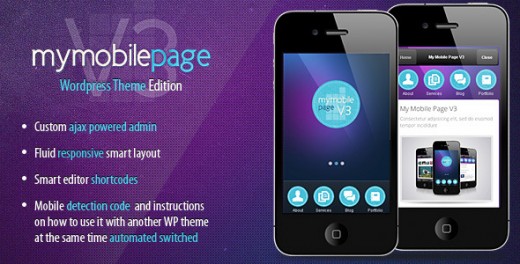 7. Mobile Pro WordPress Theme
MobilePRO is a beautiful professional WordPress theme for mobile devices. However, it looks great on any computer screen.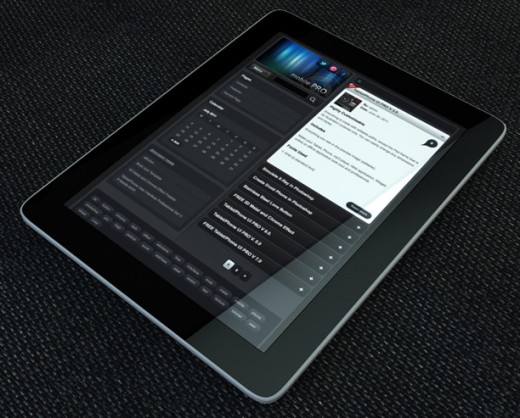 8. My Mobile Page V2 WordPress Theme
My Mobile Page V2 WordPress Theme is a unique wordpress mobile theme with some amazing new features, 100 % customizable, fluid layout, automatically resized to every mobile resolution etc.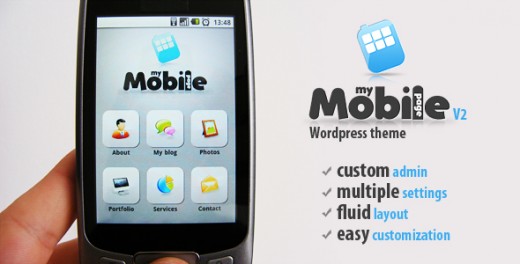 9. 1stGiantLeap Mobile Template WordPress Edition
1stGiantLeap Mobile is a HTML5 /CSS3 template tuned to look perfect in mobile browsers.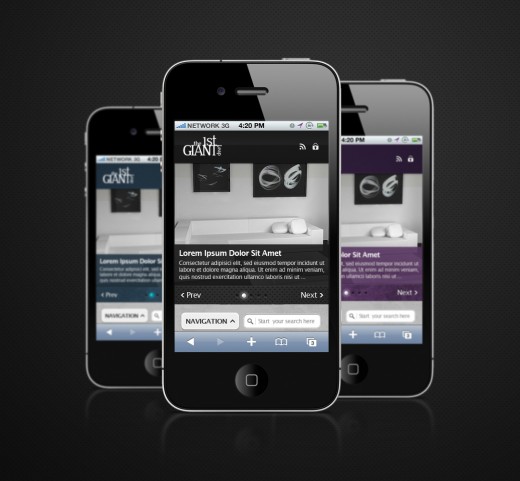 10. My Mobile Page WordPress Theme
My Mobile Page WordPress Theme is a minimal mobile wordpress theme. With a modern look and a lot of cool features this can be the perfect personal mobile website for you.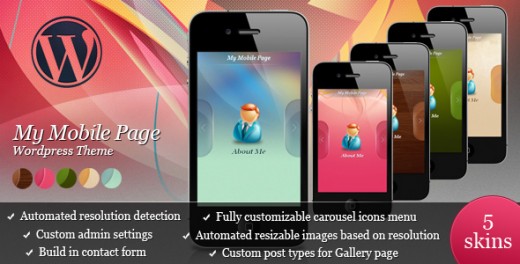 11. DotMobi – WordPress Theme for Mobile Devices
dotMobi is a mobile theme for WordPress. It can be used either as a standalone blog OR in conjunction with one of the many plugins that offer theme switching according to the users platform.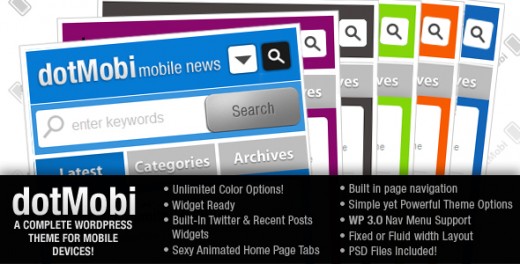 12. iWorld – Mobile WP Theme
iWorld is a wp theme designed exclusive for iPod Touch and iPhone, Can be use for corporative site, portfolio, blog.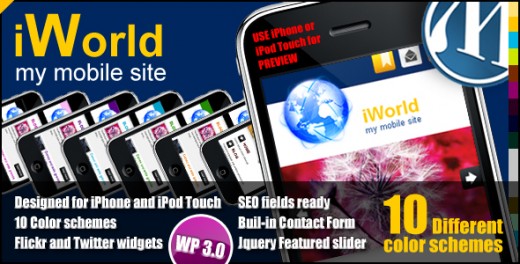 13. Simple Mobile
Simple Mobile is a WordPress theme designed for mobile devices, especially iPhone.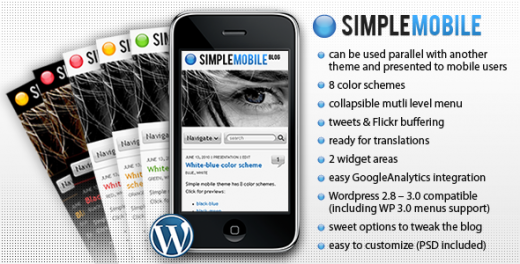 14. SOFA iBloggr – WordPress iPhone Theme
Sofa iBloggr is the very first WordPress theme made exclusively for iPhone and iPod touch devices.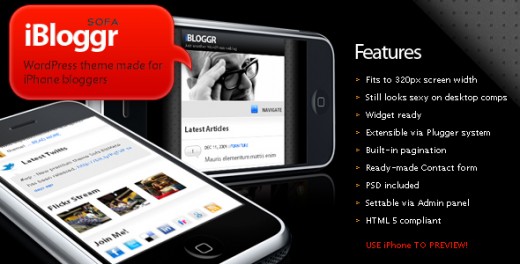 If you enjoyed this post, please consider to leave a comment or subscribe to the feed and get future articles delivered to your feed reader.