When it comes to building websites, the choice of the available tools seems to be quite limited. There are basically a few well-known services most people use, when they start working on their projects. As soon as you start thinking over your website structure and preferred feature set, it often becomes clear that you need a specialized website builder to cover the entire spectrum of your web building needs.
If you currently face the need to run and manage a gaming (betting) website on your own and feel that you lack the required skills or web design knowledge, then go ahead to test and use SpringBuilder! This is that very tool, which will make it possible for you to design a specialized gaming website in no time. Let's find out what exactly it has in stock for you now.
Ease of Use
Being a cloud website builder, SpringBuilder comes with a broad spectrum of integrated features. They allow creating your website structure, set up its design and adjust the other parameters for quick and effective promotion of your project. SpringBuilder was designed by BetConstruct – the developer of online and offline gaming platforms.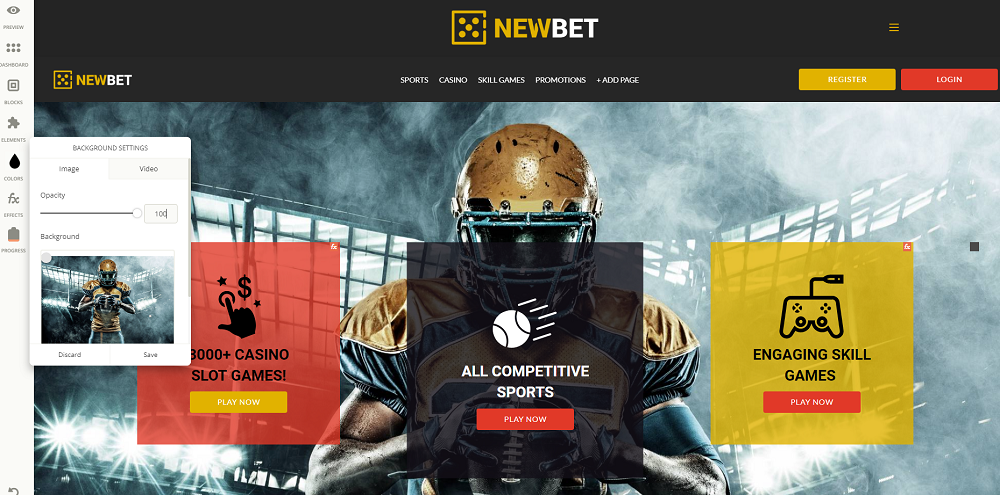 Like lots of other popular services, SpringBuilder comes with a convenient and easy-to-master drag-and-drop editor. Both newbies and proficient web designers can learn how to work with it with minimum effort and time investment. Apart from building gaming websites, you can use the website builder to design other types of projects. The feature set of the system allows doing that with ease.
Template Design Options
As far as the website builder has the major focus on the development of gaming websites, its template collection encompasses dozens of high quality designs. For user convenience, the themes are divided into several categories based on the topic they represent.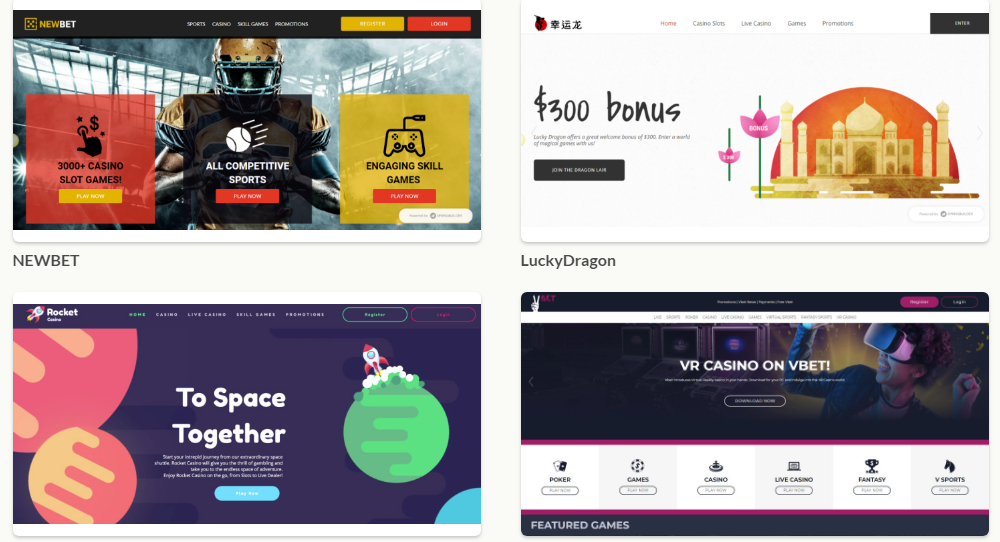 Among the categories that enjoy user attention most, the following ones should be on the top of the list: Sports, Casino, Game, SportsBook, FinBet, Poker, Fantasy, Promotions. All the templates come with ready-made content and you can replace the available information with your own data based on the project you work on.
What's important SpringBuilder is that very website builder, which does not adhere to the needs of gaming fans only. It also makes it possible to use a blank template to design any type of website you need. All SpringBuilder templates are mobile responsive. Whatever option you select, users will easily browse it on any desktop and mobile devices they have got used to.
Features
SpringBuilder offers a powerful set of design customization tools, which are the highlight of the system. Just reach the control panel to see what the system offers. It is intuitive and comprises several sections. These include:
This is the major part of the control panel, which encompasses the main design customization tools.
This is the section, where you can access various widgets to be integrated into your gaming website.
The place, where you can select and adjust the color scheme of your project.
This section will help you watch the process of your website design in progress.
To get the essence of SpringBuilder functionality, it makes sense to analyse the most essential elements of its Dashboard. The prevailing amount of them concern website design customization and web page structure development, which matters a lot for users with zero web design skills.
Types of Pages
As soon as you reach the dashboard, the Pages element will be the first to notice. This is the place, where you can add, edit and manage the number and types of your gaming website pages.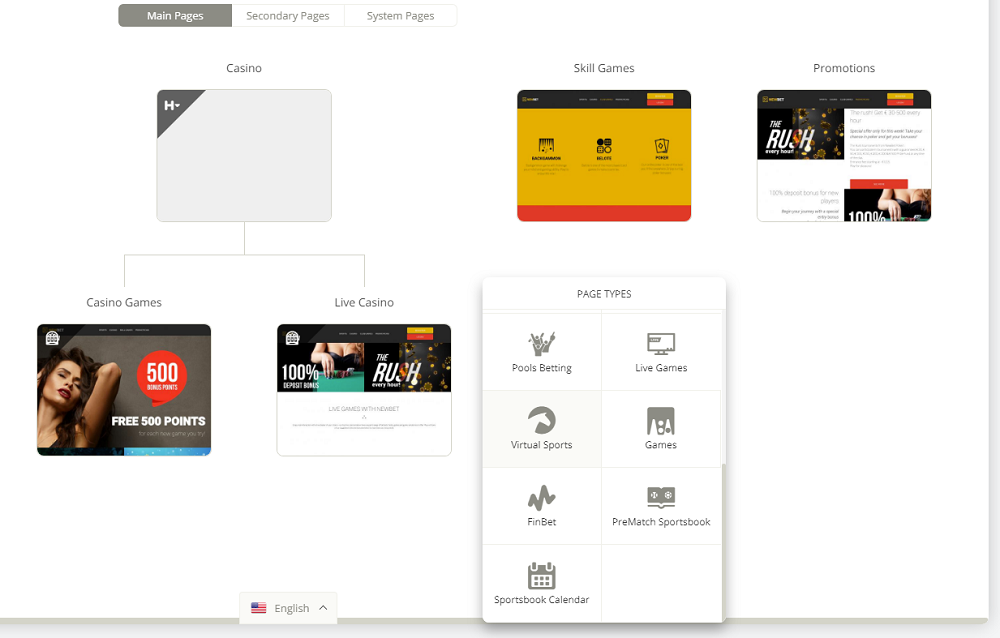 These are as follows:
SportsBook (Live and PreMatch). This is the section, where you can start working on your SportsBook website. You'll be able to select between the Live and PreMatch modes here. The choice will depend upon the goals you set and the purpose of your project. The default SportsBook website will come with pre-designed Sports List, Betslip, Search and Live Match sections. You can leave them as they are or modify the number and content of pages based on your needs.
Casino Page. SpringBuilder works great for building online casinos. Just activate this page and replace the content with that of your own to launch this type of website. You can add and manage different casino games and categories as well as adjust its general design here.
SportsBook Calendar. This is a must-have page for any gaming website. It's no wonder as any gaming fan wishes to stay aware of the upcoming events and game schedules. By activating the page, you'll be able to provide this information at your website, updating it as required.
Other Page Types. Apart from the major types of web pages available in the dashboard, there are also those that may add functionality to your gaming website. Some of them include Virtual Sports, Games, FinBet, Pools Betting etc. These pages come with their own settings and features you can adjust and modify, if your project implies that.
Designer Tools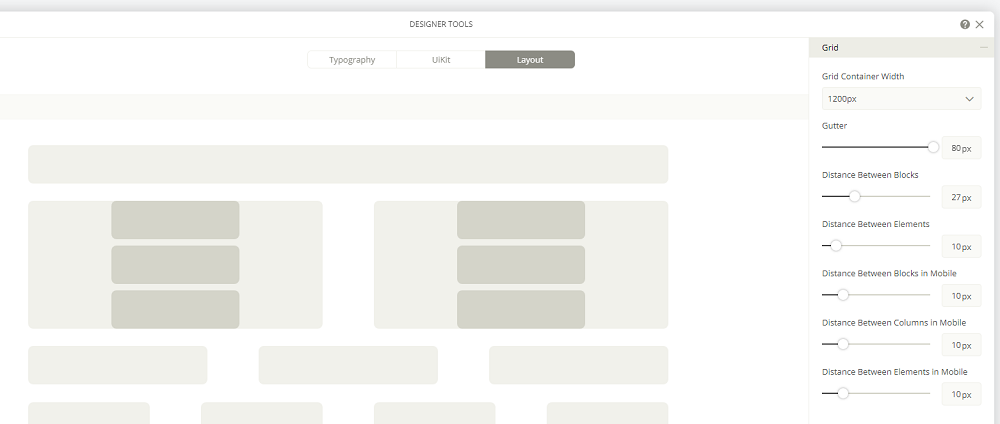 By reaching this dashboard section, you will find a set of designer tools. You can use them to give your gaming website the preferred color scheme, edit typography, customize design and styling. The set includes Typography, UIKit and Layout.
Logo Maker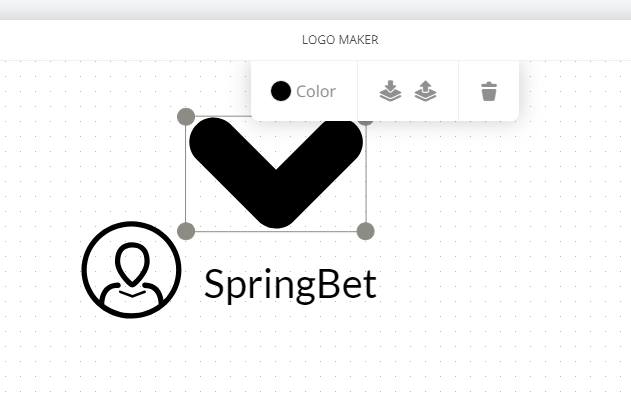 Any gaming website needs graphic representation. With SpringBuilder, you can now design your own logo. To do that, just access the extensive icons gallery and combine the elements of your choice. Another way to get your website logo is to upload the one of your own and set up its design.
Team Management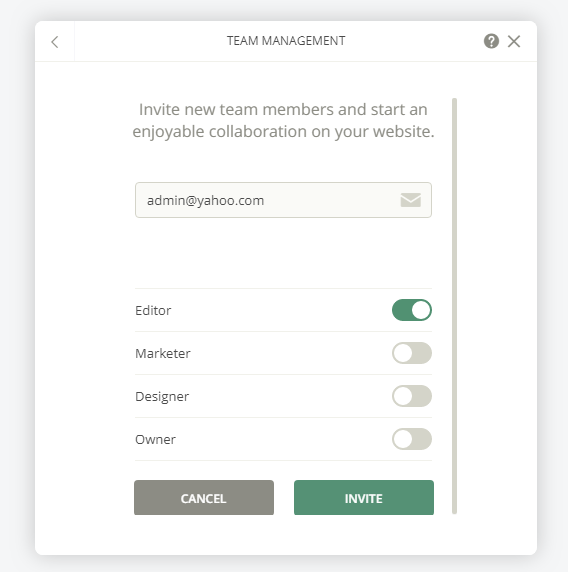 If you plan to develop a project with a reliable team of web designers, why don't you grant website access to them to simplify the work? Team website management is a handy tool for web design studios and agencies involved in the creation of custom made projects.
Languages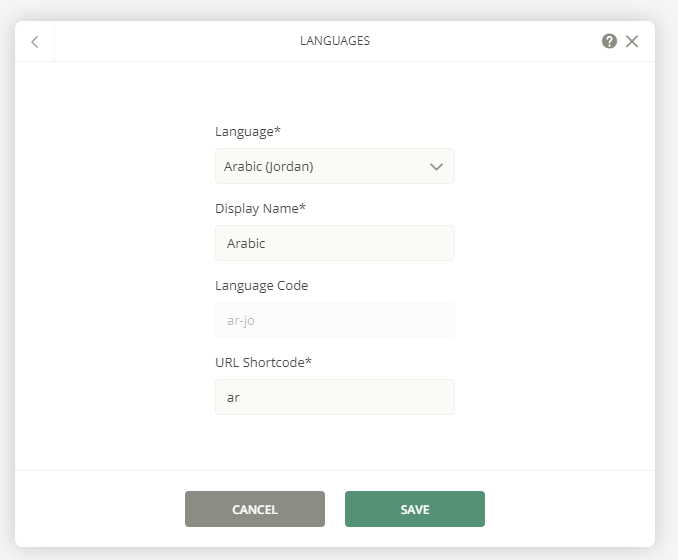 The website builder offers reliable multi language support. You can create several versions of your gaming website in different languages of your choice here. This helps build customer base and contributes for more effective cooperation with foreign partners.
Integrations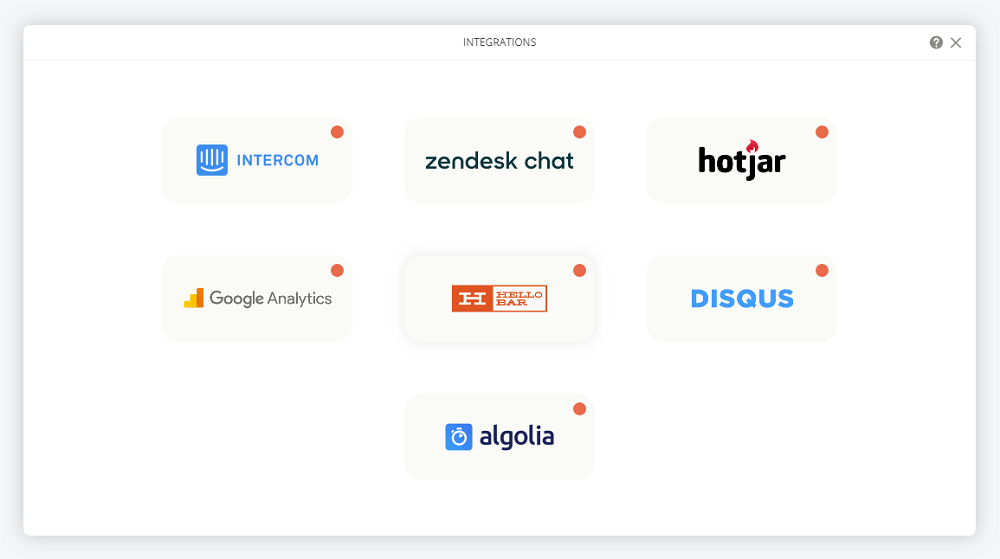 SpringBuilder allows for effective integration of well-known third-party extensions and applications. This may be a nice solution for users, who wish to give their websites powerful functionality needed to accomplish complicated tasks. Among the external services you can integrate into your gaming website, Intercom, Zendesk Chat, Hotjar, Google Analytics, Disqus and Algolia should be the first to menton.
Casino App

Casino App is an important must-have SpringBuilder element. Available in the dashboard, it makes it possible to launch, manage and run an online casino. To select the elements and adjust the settings of your casino website, just switch between the tabs – Games, Categories, Types and Providers – and make the modifications you'd like to be displayed at the website.
eCommerce

By activating an eCommerce section, you can set up and manage an online store, if your website specialization requires that. Building a web store is simple here. Just stick to the steps the system generates to add, edit the pages, manage and update product lists, add and edit product descriptions and images, create discounts and special offers, select between more than 300 payment options.
Articles App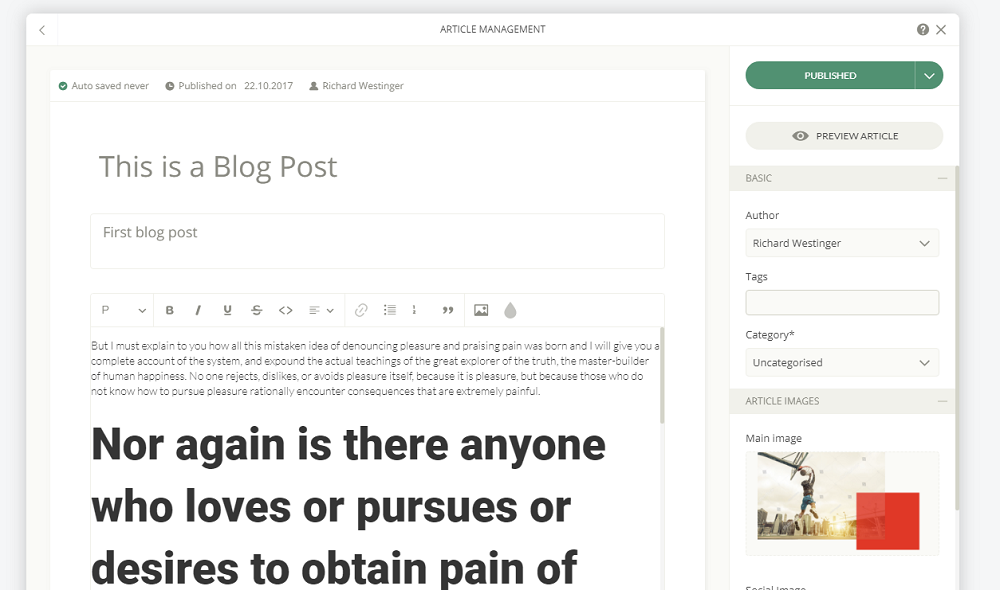 The Articles App allows connecting a blog to your gaming website. Most owners of such projects appreciate this feature as it lets them communicate with the audience. You can write, edit and schedule posts, create and update topics or polls, adjust SEO parameters etc.
SEO App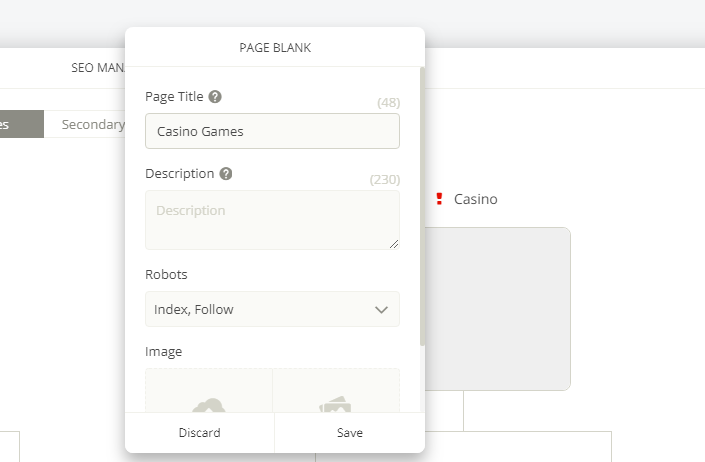 Boosting website promotion is another important step you should undertake to make your project a success. You can fill out meta tags, check your website analytics and adjust the major SEO parameters to boost the search engine ranking of your gaming website.
Gaming Website Features
With SpringBuilder, you can create different types of projects, but the system is still mostly oriented on building gaming and betting websites. To reach the goal, you won't go without integrating industry-specific gaming website features. The system offers many of them, but the most useful and valuable are listed below:
Winners Chart
Selected Sports Games
Betslip
Events
User Account
Casino Games
Casino Games Category
Casino Favorites
Casino Search
Fantasy sports
Mini Games
Any of these gaming features can notably contribute to your website performance. Choose those of them that work best for your project and integrate them into your website to boost its functionality.
Customer Support
SpringBuilder offers reliable customer support, which aims at providing the system users with valuable information. The service offers powerful knowledge base with multiple articles and how-to guides. This helps users find answers to all the questions they might have, when exploring the website builder.
To solve other system-related problems, you can access the LiveChat available in the lower right website corner. What's important, the support team reacts to all user inquiries in no time. This is what SpringBuilder fans value a lot about the service.
Pricing
The system is absolutely free for all BetConstruct user categories, ensuring the unsurpassed gaming website creation experience. If you are going to build a web store with SpringBuilder, you'll have to choose between three plans, namely: Basic ($156/year); Pro ($372/year); Unlimited ($720/year).
Each plan comes with a set of features and tools that may cover various eCommerce web building needs.
Conclusion
SpringBuilder is a cloud drag-and-drop website builder. It is quite easy to use and explore by newbies and proficient website developers. The website builder was created by BetConstruct to be used for launching gaming/betting websites. The system comes with an extensive range of design customization tools, gaming website features, opportunity to add and edit niche-specific web pages.
The website builder also offers multilingual support, powerful SEO parameters, blogging and eCommerce options. It is free for all users, who wish to build decent gaming websites. Helpful customer support team will help you solve all the system-related problems quickly and effectively. All in all, SpringBuilder is a functional and convenient gaming website builder that is certainly worth testing.