You're all too familiar with fourth-generation connectivity, and you're ready for something new. Business owners who are tired of lagging speeds, downtime or connectivity issues when working on an international platform can greatly benefit from faster connectivity speeds and online connections. Although 4G internet connectivity is fast, it is a thing of the past. Especially with mobile carriers like AT&T and Verizon positioning themselves to present the latest 5G is connectivity in the near future.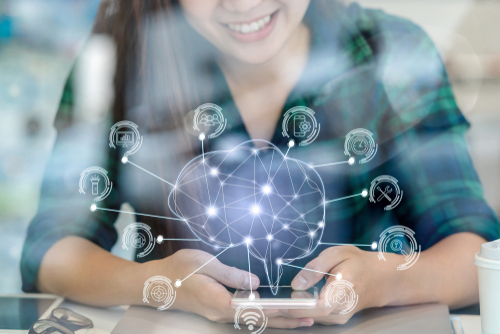 What is 5G, you wonder? This new network is going to improve speeds and mobile connectivity. It will soon take over the marketplace, making 4G a thing of the past. Projected to roll out at the end of 2018 and early 2019, businesses are about to get a boost in efficiency. Here's how companies can use 5G technology to further enhance their own capabilities.
Office Assistants
Artificial intelligence (AI) assistants are a popular trend in the business world. Digitally powered assistants will simplify processes to help make your office/workplace more efficient, as AI has the power of machine learning capabilities – think Watson, Cortana or Siri. Implement that with the ability to streamline processes, and you'll instantly realize the benefit of integrating AI technologies into the workplace.
A smart office is going to recreate how your company operates. Take augmented and virtual reality devices, for example. These tools are capable of improving functionality in the office and 5G networks will allow these applications the capability of handling tasks smoothly. Operating a live stream, connecting with international callers and "virtually" meeting with clients across the globe are all aspects that will revolutionize the workplace.
Smart Apps
Productivity apps are another integral technological advancement business professionals will utilize to be more efficient. Calendars, timers, meeting reminders and auto-scheduling appointments are just a few functions these apps provide. There's only so much you can get done in the day on your own, and even the most efficient professionals get sidetracked.
Productivity apps help keep you in line, and help you complete those tasks you otherwise brush off during the day. Given the nature of many offices implementing a BYOD (bring your own device) policy into their infrastructure, employees can better utilize productivity apps. Whether it is utilizing productivity apps on a tablet or smartphone, 5G connectivity is going to allow employees to better communicate, integrate and collaborate on projects. Greater streaming capabilities, minimum lag and the ability to connect at the fastest speeds possible are going to change the way team meetings and brainstorming sessions unfold.
What's in Store for the Future of Tech-Enabled Productivity?
Companies and tech professionals never stop looking for innovative ways to implement new technology. The 5G network is just one of the many advances that is going to help streamline online communications and help us connect to the internet faster, from virtually anywhere in the world. These advances don't end with our smart devices. M2M (machine-to-machine) buildings, for instance, are present in many office locations. Buildings are becoming "smarter," making it more difficult for the wrong people to get in, helping to increase security in the workplace.
Implementing the use of smart cars for work-related tasks, such as delivery services or meeting with clientele, will improve the manner in which companies can provide the best services to customers. Integration of maps, route options, communication devices and other functions in smart vehicles allows companies to provide greater services to their clients, and improve the manner in which they operate the business as a whole.
Companies are implementing networks of workplaces and "liquid workforce" to help keep up with the advances in the business world. This liquidity allows employees to have access to relevant work information, regardless of the work location.
What This Means for your Business Environment
Simply put, you have to keep up with the changes! Companies and business professionals who aren't implementing the latest technologies, services, and improvements in the workforce, are going to fall behind. Not only regarding competing with industry-leaders, but also by diminishing customer engagement. Consumers know that technologies are evolving and want the companies they interact with, to employ the latest technologies.
Those who want to be more efficient, improve productivity, and develop in their industries must keep up with the changes. These are a few which are currently on the horizon. Who knows what the future holds in 2019 and beyond!