There are three types of VPS (Virtual Private Server) hosting with respect to support and management – Self Managed, Semi-Managed, and Fully Managed. Let's take a brief look at each.
What is Self-Managed VPS?
Self-managed or unmanaged VPS lets the user handle all the support, root access, maintenance, etc. It is a better choice for those who have a great experience in securing, maintaining, and configuring servers and are seasoned administrators. Also, it is perfect for those who do not require any support from the hosting provider.
What is Semi-Managed VPS?
The semi-managed Virtual Private Server works for most of the customers, and the plans are created keeping in mind their needs and demands. Any VPS plan that is taken without a control panel (cPanel and Plesk) is labelled under semi-managed VPS group. From basic configuration to network related problems, sluggishness, internal server errors, etc. are taken care of by the service provider.
What is Fully-Managed VPS?
From installing software to maintaining the security of the virtual server, troubleshooting other VPS related problem your host does it all. Though the user is responsible for all the sites they want to host on the server, the service provider takes care of almost everything else.
For a better and well-informed choice, here is a breakdown of information related to the three essential types of Virtual Private Servers.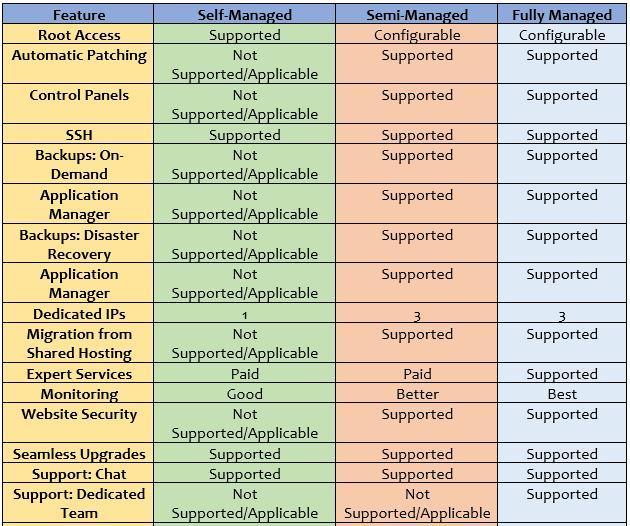 *The above services may vary from one service provider to other.
Now let's give you a brief description of a few of the features mentioned above,
Root Access
If a user wants to install a software on their server through the command line or needs to conduct any administrator level task, they need root access. However, it is recommended not to use it unless one is familiar with command line and knows how to use it to control the server.
Automatic Patching
When security vulnerabilities are patched, it's vital to get them on the server as soon as possible. With automatic patching, the server powers the patching tools available through its OS or control panel to update potentially tricky elements fast.
Control Panels
With the availability of a control panel, it becomes easier for the user to carry forward administrator-level tasks such as adding websites to the server and creating FTP users. Without it, the only way to manage the server is through the command line.
SSH Access
SSH (Secure Shell) is how pro users issue commands to the server by themselves. They often find SSH quicker and easier than GUI to get the work done.
Backups: On Demand
Backup is necessary to safeguard against mishaps like deletion or loss of data, also, when the changes implemented don't work out in your favour or how you anticipated them to be. With backup, you can quickly restore the previous version and make changes again if needed. So, make sure you start taking the "We recommend backing up your server before making these changes" pop-up seriously.
Application Manager
As application installations increase in frequency, the more tedious it would get to manage & access as time passes. With an application manager, you will have easy access to a vast library of apps and tools that will help you in tasks like relocating the application on your server, automatic backups, etc.
Backup: Disaster Recovery
In cases of severe breakage of the server, disaster recovery is what you need. This service is usually chargeable and varies from one service provider to another.
Migration from Shared Hosting
There are a lot of benefits attached to upgrading/migrating from shared hosting to a server. However, if you are a novice and a little apprehensive as well, the migration tool makes the process easy. With a few clicks, your old shared account will be changed into a brand-new space in no time.
Expert Services
Similar to what interior designers do to your home, the server admins do to your server. They are always available to overhaul/spruce up and patch components of your server to make every step easy for you.
Website Security
Ask your service provider about the website security services offered to keep your server as protected as possible. This step will keep your website protected against any potential damage.
Now that you have a clear understanding of the three essential types of VPS hosting, make a wise decision based on the needs and demands of your website. Make sure you compare them on all the relevant factors to make your choice.