On a scale of 1 -10, how important is your website for your home business?
Many first-time home entrepreneurs use price as their sole factor when they are choosing web hosting for their business. It's effortless to click on the first hosting ad you because it is cheap.
It would be a mistake to ignore other important criteria when deciding on the best business hosting.
It's hard to find reliable advice because each person is basing their recommendation based on one website; their experience could have been lucky or unlucky. You really need to use a site that collects thousands of comments and reports on different hosting companies.
A review site with hundreds of home business web hosting reviews can save you weeks of research and prevent you making an expensive mistake. These sites let you see hundreds of reviews and comments on every aspect of the host you are considering. You can apply filters such as dashboard used, CPU resources and price.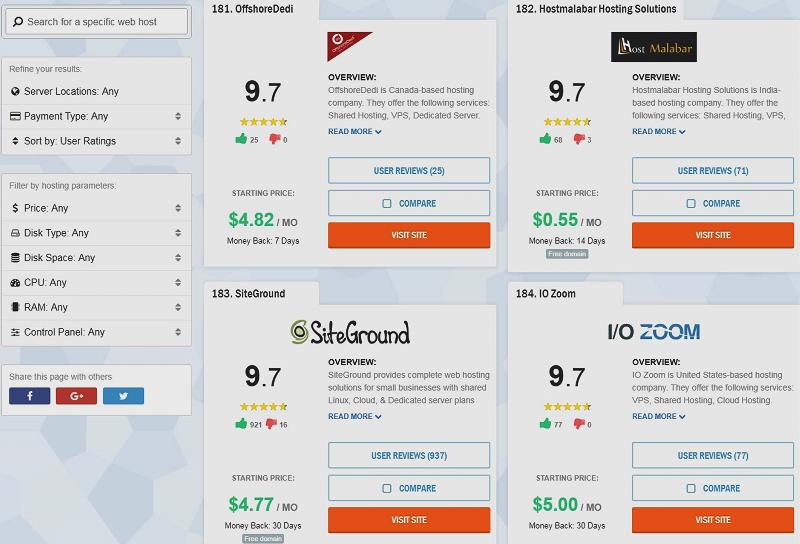 The screenshot above of HostAvice.com illustrates what you can learn from multiple reviews. Be careful to pay attention to the number of reviews for maximum reliability.
Review sites help you find great small business hosting and reduce the chance of making a bad buy that would hinder your business growth for years to come.
What Is Business Web Hosting?
Business hosting is designed for serious players like you. You usually get more server resources and a server using solid state disk drive (SSD) because these are the crucial components for a fast business website. You will find less emphasis on hosting unlimited domains because nobody can run more than one business properly.
Business hosting is usually slightly more expensive than a basic shared plan because you are getting more.
1. Host Reliability
You need your website to be live 24/7/365, with 100% uptime, but no company is going to guarantee that. You will find 99.9% and 99.99% uptime guarantees, but take all these with an ounce of salt, because somewhere in the small print the host will have a cop-out. Pay more attention to the reviews you read, and especially to the ratio of favorable to unfavorable comments.
If you have found a host that has no reviews, forget it. That company is probably a teenager with a reseller hosting account and no experience whatsoever.
2. Hosting Support
Things will go wrong. You need 24/7 chat support as a minimum. Forget any host that doesn't boast of offering this level of technical support because if your home business website is down, it's not earning you money. If your site crashes on a Friday afternoon, you can't afford to wait until Monday morning in India before someone will sort out the problem.
3. Server Resources
CPU or server resources are the limiting factors that govern how fast your web pages will load. You will pay more for a bigger CPU share, but it's worth it if you have the site traffic and making sales because a slow site will lead to visitors giving up and buying from your rivals.
4. Site Speed
Your website speed depends partly on its content and how you optimize it. It also depends somewhat on the installed on your server and how that is set up, and that is beyond your control.
Any reputable hosting company will offer a guarantee, so set up your site and test its speed on dotcom-tools.com or a similar site within the warranty period. If it falls short, ask for your money back and find a host that will make your site load more quickly.
5. Hosting Freebies
Sometimes hosting freebies are worthwhile.
If you are offered free domain privacy that is worth much more than a free domain name. Free site migration is always worth looking out for, but check your site is covered before handing over your money. Preferential support and free reinstallation from backups if needed could mean the difference between a happy family life and losing your mind.
If you plan to pay someone to move or build your site, you should read this iHubbub article about owning your content because there are some unscrupulous operators out there.
The Short Version
Your website IS your home business, so you might need to spend an extra dollar per month to find a hosting company that does it justice.
Every hosting link on the Internet is an affiliate link, so you cannot believe what you read. The only way to get an accurate report on a company is to use a review site that compiles user comments and experience.