Today, over half of all small business owners still don't have a website, according to a 2013 survey. However, those people with websites put a high value on it, with 72 percent citing that their website serves as their primary online presence and 60 percent agreeing that a website is crucial for success.
Just because your small business has a website, however, doesn't mean your customers will trust or enjoy it. This is where a great website design can come in handy, so check out these tips and mistakes to avoid to help create a better online presence.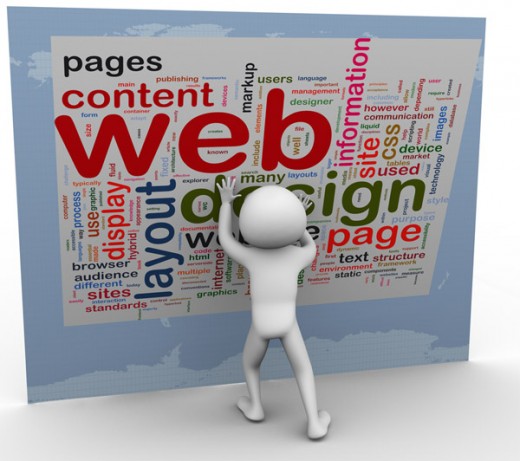 Web Design Tips
1. Make It Easy to Navigate
Customers don't want to have to click through page after page trying to find what they're looking for, so it's your job to make everything on your site easy to find. You can do this several ways:
Insert a navigation bar at the top of the content, and use appropriate keywords for each link.

Place the most useful information, such as contact numbers and addresses, on your home page.

Include a search bar on the site.

Use common icons so they're recognizable.
2. Keep It Simple
Web users only stay on a page for 10-20 seconds, and once they've found what they're looking for, they move on. Make it easy for your visitors to find this information by keeping your content short and to the point, your graphics both eye-catching and relevant, and your font easy to read.
3. Connect With Your Audience
Think of your audience before you choose your template or your colors. What would they like to see? If you own a tattoo parlor, they might enjoy a black background compared to a pink background whereas if you own a bakery, a soft background with a cupcake logo at the header might be more appropriate. The better you can connect with your audience like this, the more success you'll have with them.
4. Remember Your Brand
Branding is an important part of your website, which includes helping your customers remember who you are. Place your logo on your site and use your business's logo colors in your color scheme. Most importantly, you should stay consistent with your themes to help customers better recognize you across the Internet.
Mistakes to Avoid
1. Settling With a Cheap and Slow Service
Settling with a cheap service could lead your website to run slowly. Since 47 percent of consumers expect a website to load in two seconds or less, this slow service could push customers away. Instead, research various web hosts and their loading speeds to avoid setting up a slow site. Additionally, you'll want to opt for high-speed Internet at your business to help you run your site. You might choose a reliable California DSL service to provide fast and secure Internet to protect your website.
2. Placing Too Many Ads
Your website should focus on connecting with your customers and giving more information about your business, not about shoving ads in your customers' faces. The more you clutter the page with ads, the more your website will look like spam and therefore untrustworthy. Be careful about how many ads you're placing in your sidebar. Advertisements aren't necessarily bad as long as you use them in moderation.
3. Forgetting to Incorporate a Clear Call-to-Action
When a customer lands on your home page, they want to know exactly what to do next, yet too many websites leave this out. Do you want them to explore your products, subscribe to your newsletter, or contact you? Make sure you give them this information on the home page.
4. Allowing Content to Become Stale
One rookie mistake is to believe that once your website is up, you're done with it and it will work on its own. However, that can quickly lead to outdated content and cause your customers to wonder if you're still in business. Update your website often, such as with a blog, and make sure that your content is enticing to connect with your target audience.
As you work toward creating a website for your small business, be sure to keep these tips in mind to make the most out of your site.